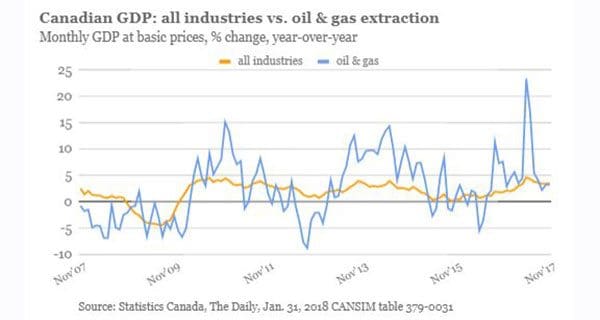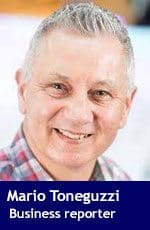 The above headline should grab everyone's attention in this country, particularly different levels of government.
It's courtesy of ATB Financial's economics and research team and their commentary released this morning.
ATB looked at the latest data from Statistics Canada, which indicated that Canada's economy in November 2017 was 3.5 per cent larger than it was in November 2016. The rebound in the energy sector was partially responsible, said ATB.
The orange line in the graph above shows monthly gross domestic product (GDP) for all industries as a per cent change from the year-ago level. The blue line shows output in oil and gas extraction.
While the data are for the entire Canadian economy, a large portion of oil and gas extraction originates in Alberta, explained ATB.
"One of the most striking features of the graph is the volatility of oil and gas compared to the all-industries average. On a year-over-year percentage change basis, oil and gas activity has ranged from a decline of nearly 10 per cent to an increase of 23 per cent. Total Canadian GDP, on the other hand, has moved in a narrower range of minus five to plus five per cent," said the financial institution.
"The second thing one notices is the number of contractions in the energy sector compared to the total Canadian economy. Over the last 10 years, oil and gas output has dipped into negative territory at least eight times. The all-industries average, on the other hand, dropped below zero only once – during the 2008-09 global recession.
"The third feature of the graph is the noticeable impact oil and gas has on Canada's total economy. The major downswings in oil and gas pull down the all-industries GDP – something that is visually obvious as the orange line sags lower in 2008, 2012 and 2015."
Respected business writer Mario Toneguzzi is a veteran Calgary-based journalist who worked for 35 years for the Calgary Herald in various capacities, including 12 years as a senior business writer.
---

The views, opinions and positions expressed by columnists and contributors are the author's alone. They do not inherently or expressly reflect the views, opinions and/or positions of our publication.