| | | |
| --- | --- | --- |
| // | pops Privately Owned Public Space | pops Privately Owned Public Space  |
---
[popup url="http://marketplace.troymedia.com/2016/01/pops-lightning-rod-for-urban-ideologues/" height="800″ width="800″ scrollbars="0″]Download[/popup] this column on Privately Owned Public Space (POPS) 
[popup url="http://marketplace.troymedia.com/terms-and-conditions-of-use/" height="600″ width="600″ scrollbars="0″]Terms and conditions of use[/popup]
---
TORONTO, Ont. Jan 4, 2016/ Troy Media/ – POPS – Privately Owned Public Space – is a lightning rod for urban ideologues. You have POPS in your town, starting at the mall. The indoor benches, fountains and walkways at malls aren't like the public sidewalk. They're owned by the developer/owner and not even the merchant whose storefront faces these amenities.
Then there's the outdoor space. For example, the "giant pedestrian mall" was the term given to the hunk of concrete at 200 Granville Square in Vancouver. This was done to promote the building on stilts above the railroad tracks. More gigantic is the pleasant urban space between and among Toronto's bank towers.
New York has the best selection of everything, so naturally it has the most obvious and most famous POPS. Paley Park on East 53rd is about the size of a building lot for a brownstone with a stoop. But a 30 or so year old time-lapse film shows that it's one of the best used urban spaces of all. People come and go, sip a coffee and escape the urban noise as a result of a beautiful waterfall at the back end of the little park.
Dig deeper in New York and every couple of blocks you'll see signs of POPS. There are gates that wheel shut after a certain hour, signs indicating that the space is patrolled. You'll also see little lumps on the benches that make sleeping rough for the homeless.
On the plus side, there's always a spot to sit that's clean and landscaped. On the negative, you're a guest who can be kicked out at any time.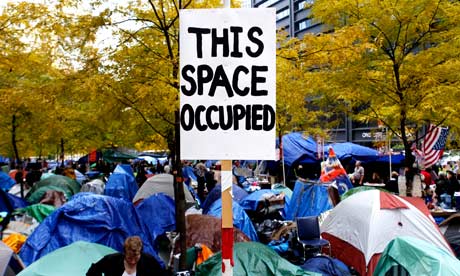 There are other negatives. Developers are said to get concessions from the city in the form of more density in exchange for these little parks. Taxpayers don't get a good deal, say the critics. Others question how much we want to be policed by private security firms whose allegiance is to the developer, not the taxpayer.
There's always another side to that coin you find on the street in our cities – so here it is. Taxpayers probably don't get a good deal, and that's not the fault of developers. It's incompetent city administrators. If we're into an era of cost-cutting, public-private partnerships (3P), Business Improvement Neighbourhoods (BINs) and so on, then our civic officials better learn how to do a good deal for taxpayers. Density rights are a repository of value, every bit as much as a brick of gold is. Cities can prosper by knowing the value of an extra floor on a building and extracting appropriate value from developers.
Oh . . . if you don't like the gate to the POP being closed, that can be negotiated too. If you don't like the private security guards, the developer can be charged on a square-footage basis to have a regular beat cop police the POP. It's all in the art of the deal.
Oh . . . and if you're convinced that this is some new conspiracy among neo-liberals to further grind the little guy into submission, think again. My favourite B & B in which I stayed in London, England on my way to and from my study sessions at Leicester University was near Kensington Palace. It was a Victorian row house. In addition to the key to the door, I was given a key to the oval park across the street. It was surrounded by locked wrought iron and shrubs and only for the residents of the row housing – Privately Owned Private Space – Keep Out!
Oh . . . one more nail in the neo-liberal conspiracy theory. Remember the "Occupy" movement. Their most famous base was Zuccotti Park in New York's Wall Street financial district. That's privately owned space that was used for a public protest purpose.
Troy Media columnist Dr. Allan Bonner has consulted on some of the major planning and public policy issues of our time on five continents over 25 years. He loves cities and his next book will be titled Safe Cities. Allan is included in Troy Media's Unlimited Access subscription plan.
| | | |
| --- | --- | --- |
| Read more [popup url="http://www.troymedia.com/tag/allan-bonner//" height="600″ width="600″ scrollbars="0″]Allan Bonner[/popup] | pops Privately Owned Public Space | Follow Allan via [popup url="http://marketplace.troymedia.com/author/allanbonner/feed/" height="600″ width="600″ scrollbars="0″]RSS[/popup] |
| pops Privately Owned Public Space | Submit a Letter to the Editor | pops Privately Owned Public Space |
The views, opinions and positions expressed by all Troy Media columnists and contributors are the author's alone. They do not inherently or expressly reflect the views, opinions and/or positions of Troy Media.
Troy Media Marketplace © 2016 – All Rights Reserved
Trusted editorial content provider to media outlets across Canada