A number of North America's finest ice hockey video gamers are set to do battle in the first ever Snider Hockey Cup. Budding eSports professionals will face-off in the inaugural tournament using the Canada-developed EA Sports NHL 18 title – the first official WorldGaming tournament to use the game. Under WorldGaming's previous guise, Virgin Gaming, a string of ice hockey gaming tournaments were hosted using the EA Sports titles, but WorldGaming's rebranding was designed to cement its platform as one of the most dynamic eSports gaming platforms on the planet.
There has been widespread interest in the event, with one of the biggest totals of sign-ups in the history of WorldGaming tournaments. There are three stages to the Snider Hockey Cup, named after the late Philadelphia Flyers owner Ed Snider, whose Youth Hockey Foundation is doing much to rebuild lives and bridge communities through ice hockey.
Initial online qualification kickstarted on January 10 and, due to the sheer volume of signups, the qualifiers will continue all the way through to February 10. Online play-offs for the qualification into the live championship will take place between February 17-18, followed by the live event on March 7 in XFINITY Live! Philadelphia, which is housed within the Wells Fargo Center.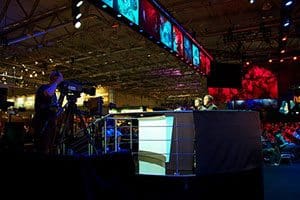 The finalists in both the Xbox and PlayStation events will be given complimentary tickets to the Philadelphia Flyers and Pittsburgh Penguins game on the evening of the final. The tournament carries a combined prize pool of US$ 17,500, with first prize for both consoles scooping $4,000 and the recognition as one of the best ice hockey gamers in the continent. You can keep track of all the action online as it unfolds on March 7 live from the XFINITY Live! Studios.
Livestreaming has helped immeasurably to popularize the concept of eSports among Canadian millennials, streaming gaming action to fans around the world on YouTube and other platforms such as Twitch, which we'll discuss in more detail shortly. eSports revenues in Canada grew by more than 25 per cent in 2016 alone and on a global scale, revenues are expected to jump from $85 million in 2014 to $1.2 billion in 2018. You only have to look at the 15,000-plus crowd of Canadian gamers which filled the Air Canada Centre for the 2016 League of Legends Championship Series Summer Finals to understand the industry's potential.
In terms of immersive gaming as well as watching eSports, livestreaming has brought new opportunities. One example is providers bringing bricks-and-mortar casino games to our desktop, smartphone and tablet screens in the shape of live casino games, streamed from studios where real-life dealers engage and undertake your online actions at the table. Gamers no longer even need to venture to land-based casinos to play their favourite table games. Twitch has also launched a "Twitch Plays" gaming category on its platform. These titles are online games that run autonomously via livestreams on Twitch. The Twitch viewers have entire control over a player or character's actions throughout, creating a hugely immersive shared gaming experience, in a similar way to interactive live casino games.
Amazon's $1 billion acquisition of Twitch in 2014 cemented the platform as a community for eSports amateurs and professionals alike to hang out and share thoughts on the latest video games. Many of the pros are now Twitch celebrities as they regularly livestream their home games and broadcast shows dedicated to giving their fans gaming advice.
Online gaming in Canada is alive and kicking, with revenues in Canada now in the top ten in the world, ranking eighth in Newzoo's list of countries with the highest performing gaming sectors at US$1.96 billion.
---

The views, opinions and positions expressed by columnists and contributors are the author's alone. They do not inherently or expressly reflect the views, opinions and/or positions of our publication.