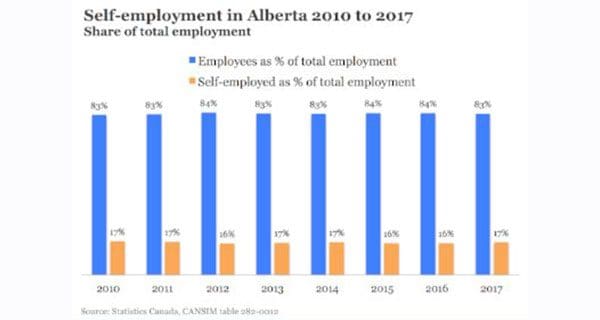 (Published on January 30, 2018)
A report released by ATB Financial's economics and research team on Jan. 30 says the number of Albertans who identify as self-employed stayed roughly the same throughout the recent recession and has remained consistent during the recovery.
According to Statistics Canada, an average of 383,300 Albertans said their main job took the form of self-employment last year. This translates into about 17 per cent of all jobs in the province, said ATB.
"Recessions often raise the potential for higher rates of self-employment, as those who have lost their jobs look for other opportunities to make a living. However, as the (attached) chart … illustrates, this didn't come to fruition in Alberta during the 2015-2016 recession," reports the financial institution.
"In fact, self-employment's share of total employment has remained relatively unchanged. Looking at 2017 compared to 2014, the average number of self-employment jobs fell by 0.4 per cent while employee positions grew by 0.7 per cent," says ATB.
"One area of concern is that the average number of self-employed workers with paid help dropped by 13 per cent between 2014 and 2017. Alternatively, the number without paid help increased by four per cent. As the economic recovery continues, we will hopefully see more self-employed Albertans take on paid help again so this job market category can recover the ground it lost during the recent downturn."
Respected business writer Mario Toneguzzi is a veteran Calgary-based journalist who worked for 35 years for the Calgary Herald in various capacities, including 12 years as a senior business writer.
---

The views, opinions and positions expressed by columnists and contributors are the author's alone. They do not inherently or expressly reflect the views, opinions and/or positions of our publication.