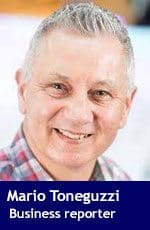 Enhanced pipeline capacity is crucial to future foreign investment in Canada and the country's competitive advantage in the energy sector, says a new report released on Thursday by CIBC World Markets.
"The future of Canada's economy looks brighter when the energy sector is thriving in a sustainable manner, of which pipeline capacity is a crucial component," said the report.
"Given the evolution of demand and increased competition stateside, investment in more efficient modes of transportation is necessary to attract future investment in the oil industry and maintain the competitiveness of Canada's position as a major oil player."
The report, Pipelines: Easing the Bottleneck, said additional pipeline capacity for Canadian oil coming online over the next few years won't be enough to solve significant bottleneck pressures with mounting associated costs for the industry and the country.
"The current pipeline infrastructure in Canada is designed to meet the needs of the past, less so the present, and clearly not the future," say deputy chief economist Benjamin Tal, and economists Andrew Grantham and Katherine Judge. They point to $12 billion in foregone revenues over the past five years and say that could rise to $15 billion by 2019.
"Demand for oil in North America is falling – reducing intra-continental export opportunities – while Asian markets are expected to dominate demand growth in the coming decades. Simply put, the current pipeline system is ill-equipped to deliver products to where they are needed most," said the report.
"The debate about the Trans Mountain expansion pipeline is not about the here and now, it is about the future. Even with added capacity over the next few years, Canada's oil patch will once again face significant pipeline bottlenecks with mounting associated costs. The Trans Mountain expansion line will work to add enough capacity to ease that pain. More importantly, that line represents the only option for Canadian oil to reduce its dependency on the saturated U.S. market and find its way into much faster growing markets."
Respected business writer Mario Toneguzzi is a veteran Calgary-based journalist who worked for 35 years for the Calgary Herald in various capacities, including 12 years as a senior business writer.
---

The views, opinions and positions expressed by columnists and contributors are the author's alone. They do not inherently or expressly reflect the views, opinions and/or positions of our publication.