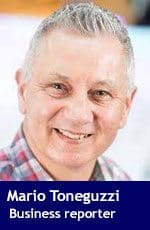 More than half of Canadian organizations, 52 per cent, are either concerned or very concerned about the implications the legalization of cannabis for recreational use will have on the workplace.
A Conference Board of Canada report, Blazing the Trail: What the Legalization of Cannabis Means for Canadian Employers, says employers' top concerns include workplace safety, impairment or intoxication, and increased use of cannabis both inside and outside the workplace.
Legislation finally cleared Parliament last week. It sets Oct. 17 as the formal day of the start of legal consumption and sales in Canada.
"Workplace safety is consistently flagged as employers' top concern with legalization, but the solution is not one-size-fits-all," said Bryan Benjamin, vice-president of Organizational Performance at the Conference Board of Canada.
"Gauging and managing impairment; adapting workplace policies; and ensuring employees are educated on what is allowed and what remains prohibited are all crucial components to a smooth transition to legalization."
In addition to workplace safety, impairment or intoxication, and increased use of cannabis inside and outside the workplace, employers also expressed concern surrounding testing for impairment, managing accommodation needs, costs of covering medical cannabis and other financial impacts on the organization, and issues related to productivity and employee performance, says the conference board's report.
It added that employers will play a critical role in helping to shape legislation related to impairment, drug testing, and benefits coverage for medical use.
Although the legislation is federal, the provinces have several areas of responsibility related to cannabis.
The Alberta government, for example,  says it will focus on four policy priorities, including workplace safety:
keeping cannabis out of the hands of children;
protecting public health;
promoting safety on roads, in workplaces and in public spaces;
limiting the illegal market for cannabis.
Respected business writer Mario Toneguzzi is a veteran Calgary-based journalist who worked for 35 years for the Calgary Herald in various capacities, including 12 years as a senior business writer.
---

The views, opinions and positions expressed by columnists and contributors are the author's alone. They do not inherently or expressly reflect the views, opinions and/or positions of our publication.