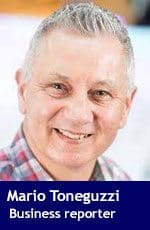 The natural resource sector is a key driver of the national and the Alberta economies. But on Wednesday, Statistics Canada indicated it continues to struggle.
The federal agency reported that real natural resource gross domestic product, or the volume of economic activity attributable to natural resources, was down slightly in the first quarter of this year (-0.2 per cent), following growth of 0.3 per cent in the fourth quarter of 2017. By comparison, real gross domestic product for the total economy grew 0.3 per cent in the first quarter.
StatsCan said energy (+0.5 per cent) was the sole subsector to grow in the first quarter, almost offsetting the declines in all other subsectors.
"Growth came principally from services related to the energy subsector (+3.2 per cent), a grouping whose movements often follow nominal oil and gas prices. Real GDP for primary manufacturing in the energy subsector, such as petroleum refining, declined 0.6 per cent. This decline was spread across most product groupings," it said.
"Minerals and mining subsector real GDP decreased by 2.2 per cent in the quarter as metallic mineral extraction fell 6.2 per cent. Two uranium mines temporarily suspended operations due to low prices, while nickel and zinc production both declined. Real GDP in the forest subsector decreased 1.1 per cent, as activity for primary sawmill and wood products was down 3.3 per cent. Since the first quarter of 2017, real GDP in the forest subsector has grown by 0.3 per cent."
The federal agency said natural resource activity totalled $234 billion in the first quarter, accounting for 11.5 per cent of Canada's GDP, up from 11.1 per cent in the previous quarter. This was its highest share since the fourth quarter of 2014.
"The percentage of economic activity attributable to natural resources peaked in the second quarter of 2014 at 14.4 per cent, coinciding with a peak in energy prices. Since that time, real GDP in the natural resources sector has grown by 4.6 per cent, while nominal GDP has decreased by 13.9 per cent, reflecting a sharp drop in energy prices which have only recently started to rebound."
Respected business writer Mario Toneguzzi is a veteran Calgary-based journalist who worked for 35 years for the Calgary Herald in various capacities, including 12 years as a senior business writer.
---

The views, opinions and positions expressed by columnists and contributors are the author's alone. They do not inherently or expressly reflect the views, opinions and/or positions of our publication.