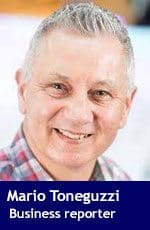 The Calgary Airport Authority, which recently launched a new strategic direction and evolved brand aimed at elevating guest experiences at the YYC Calgary International Airport, is looking at a greater variety of retail offering at the site.
Bob Sartor, president and CEO of the Calgary Airport Authority, said people are looking for more choice.
"And it's our job as an airport is to give them more choice and the other thing people are looking for is a more local flavour," he said.
The airport has more 170 different retail concepts throughout the two terminals – some are services like food and beverage, as well convenience, and some are specialty retail.
"In our discussions with the various providers of food and beverage here for example and even other retail, we're basically saying hey look this is what people want, this is what people are asking for, this is what we need to do at our airport. Try and reflect what's available in our city inside," said Sartor.
"The idea is to bring the local flavour of our food, of our beverage and certainly from a beer perspective we've become a bit of a craft beer hub. The idea is to bring something into that as well."
Over the next few years, Sartor said there will be change in the mix of retailers operating out of the airport.
Some additional retail space will be added to the newer international terminal area as passenger growth is anticipated.
Sartor said the airport authority also foresees, down the road, retail space being used in land surrounding the airport.
"It will probably be in the five-year timeline horizon. In the Deerfoot north, we have quite a concentration of businesses there and there is a need for retail. There's certainly a need for some food and beverage as well," said Sartor.
"The campus presents us with a very great opportunity because in the early stages of this airport an awful lot of old style warehousing was built. Some of those buildings are end of life. So there's great redevelopment opportunities at the airport and there's also lots of greenfield opportunities of land that we have not developed. And the difference between the way we used to do it and the way we're doing it now, is we're actually looking to attract specific kinds of businesses to the campus that are going to feed off each other.
"We've had a long look at successful campus developments around the world particularly in Canada and the U.S. and there's an approach we can take if we can attract the right kind of aviation-based organizations that are either technology-driven or supply chain driven or manufacturing driven … other businesses will be attracted to the campus as well. There's a very deliberate plan all in. It's a good 20-year plan but you'll start seeing changes as early as 2019 from a philosophical perspective of how we develop this campus. So it's a great opportunity for us to drive more jobs and obviously a greater tax base for the city."
The guiding vision statement for the airport's future direction is referred to as the North Star. The new direction will focus on elevating guest experiences with the goal of driving economic growth and prosperity for Calgary and Alberta.
The direction will include a new approach to retail and service offerings at the airport; improvements to processes within the airport; enhancements to the domestic terminal; and leveraging the entire campus development plan with the appropriate mix of businesses will all be factored into fuelling Calgary's economic prosperity.
The airport had 16.3 million passengers in 2017, supporting more than 50,000 jobs and generating billions of GDP per annum in economic activity.
Respected business writer Mario Toneguzzi is a veteran Calgary-based journalist who worked for 35 years for the Calgary Herald in various capacities, including 12 years as a senior business writer.
---

The views, opinions and positions expressed by columnists and contributors are the author's alone. They do not inherently or expressly reflect the views, opinions and/or positions of our publication.