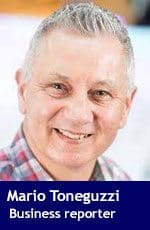 A report by the Conference Board of Canada says short-term year-over-year price change expectations for the Calgary and Edmonton housing markets are "falling."
Nationally, the only other areas described in that way were Regina, Saskatoon and Newfoundland.
In its monthly Metropolitan Resale Snapshot, the board classified Calgary and Edmonton as being in buyers' markets.
It said the annual rate of MLS sales for Calgary of 21,180 is 9.9 per cent off the pace of a year ago while Edmonton is down 2.7 per cent to 17,940.
Nationally, the board said sales continued to stabilize in June, as the effects from the federal government's mortgage stress test moderated.
"Between May and June, transactions rose in 15 of 29 areas, with eight of these markets enjoying at least a five per cent increase. B.C. posted mixed results, with Fraser Valley volumes down sharply. Trends were also varied on the Prairies, although sales rose in Calgary, Saskatoon and Winnipeg. Transactions also rose in Toronto but fell in its Golden Horseshoe neighbours St. Catharines and Kitchener. Volumes were down in most Southern Ontario cities outside this region. Sales were little changed in Montréal but surged in Saint John. Still, volumes remain well behind year-earlier levels in many cities, particularly in B.C. and Ontario," said the report.
"Buyers' markets prevail in all British Columbia (except Victoria), Alberta and Saskatchewan cities, along with Québec City and Newfoundland. Thunder Bay, London, Windsor and Saint John face sellers' conditions.
"Amidst ongoing market adjustments, prices managed to advance in 18 areas between May and June, with 11 of these enjoying gains of at least two per cent."
With only a few days left in July, month-to-date Calgary MLS sales of 1,284 are down 6.55 per cent from the same period a year ago, according to the Calgary Real Estate Board.
New listings of 2,595 are up 3.14 per cent and active listings have risen by 29.47 per cent to 8,909. The median price of $422,250 so far this month is down 0.21 per cent from last year while the average sale price of $478,850 has risen by 0.03 per cent.
Respected business writer Mario Toneguzzi is a veteran Calgary-based journalist who worked for 35 years for the Calgary Herald in various capacities, including 12 years as a senior business writer.
---

The views, opinions and positions expressed by columnists and contributors are the author's alone. They do not inherently or expressly reflect the views, opinions and/or positions of our publication.
Calgary's Business is a Troy Media Digital Solutions Associate website