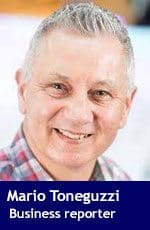 A new report the Fraser Institute says government employees in Alberta received 9.6 per cent higher wages on average than comparable workers in the private sector last year.
The report, released on Wednesday by the Canadian public policy think-tank, also said government employees in the province – including federal, provincial and municipal workers – enjoyed much more generous non-wage benefits.
"Bringing government-sector compensation in line with the private sector would not only help governments in Alberta control spending without reducing services, it would also maintain fairness for taxpayers," said Charles Lammam, a Fraser Institute senior policy analyst and co-author of Comparing Government and Private Sector Compensation in Alberta.
The report said government workers in Alberta enjoy the following more generous benefits:
Pensions: 68.6 per cent of government workers in Alberta have a defined benefit pension plan – which offers a guaranteed level of benefits in retirement – compared to 7.1 per cent of  workers in the private sector.
Early retirement: Government workers in Alberta retire 1.7 years earlier, on average, than private-sector workers.
Personal leave: Government workers in Alberta are absent from their jobs for personal reasons 81.5 per cent more often than private-sector workers – 11.8 days compared to 6.5 days.
Job security: Government workers were six times less likely to experience job loss than private-sector workers – 0.7 per cent compared to 4.2 per cent.
"Of course, governments in Alberta should provide competitive compensation to attract qualified employees, but clearly wages and benefits in the government sector are out of step with the private sector," said co-author Steve Lafleur, a Fraser Institute senior policy analyst.
In 2017, 19 per cent of total employment in Alberta was in the public sector. This included the federal, provincial, and local governments, as well as government agencies, Crown corporations, and government-funded establishments such as schools (including universities) and hospitals.
In contrast, workers employed in the private sector in 2017 represented 64.2 per cent of total employment. The remaining 16.7 per cent were self-employed.
Respected business writer Mario Toneguzzi is a veteran Calgary-based journalist who worked for 35 years for the Calgary Herald in various capacities, including 12 years as a senior business writer.
---

The views, opinions and positions expressed by columnists and contributors are the author's alone. They do not inherently or expressly reflect the views, opinions and/or positions of our publication.
Calgary's Business is a Troy Media Digital Solutions Associate website