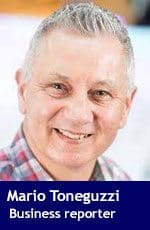 Alberta's growing technology sector is getting a boost from the government with more than 400 new post-secondary tech program seats being added this year.
"Our government is making sure more students can train, grow and graduate with the expertise needed for good jobs in Alberta's changing economy. Investing in more seats will ensure our booming tech sector gets the support of more highly-skilled Albertans, and will help our province continue to be an economic leader," said Advanced Education Minister Marlin Schmidt.
The announcement said the additional seats are part of the government's five-year, $50-million investment in growing Alberta's tech sector. By 2023, at least 3,000 new tech-related seats will be added to post-secondary institutions across the province. The recently-established Talent Advisory Council on Technology (TACT) will work with the tech industry, students, labour and post-secondary institutions to advise government on the best training opportunities to prepare Albertans for a more diversified and tech-savvy economy, it said.
Facts about the initiative:
Calgary will receive 216 seats: Southern Alberta Institute of Technology, Information Technology Diploma, 98, Object Oriented Software Development Certificate, 48; University of Calgary, Master of Engineering, Software, 40; Bow Valley College, Software Development Diploma, 30;

Edmonton will receive 169 seats: University of Alberta, Bachelor  of Science, Computing Science (After Degree), 25; Northern Alberta Institute of Technology, Computer Engineering Technology, 24, Digital Media and Information Technology, 100; Concordia University of Edmonton, Masters of Information Systems Assurance Management,10, Masters of Information Systems Security Management, 10;

Lethbridge will receive 21 seats: University of Lethbridge, Masters of Science, Computer Science (co-op), 2, Lethbridge College, Computer Information Technology, 19;

post-secondary enrolment has increased in tech-related fields by 8.4 per cent over four years;

disciplines such as computer programming, computing science and software engineering have seen the largest increases – 30 per cent to 50 per cent over four years.
"The University of Calgary is home to some very well-recognized technology programs, so it's encouraging to see that the government is increasing its support in this area. We have the talented faculty and students needed to help diversify our economy, and with additional government funds we can continue to grow in technology areas," said Dru Marshall, provost and vice-president academic at the University of Calgary.
Respected business writer Mario Toneguzzi is a veteran Calgary-based journalist who worked for 35 years for the Calgary Herald in various capacities, including 12 years as a senior business writer.
---

The views, opinions and positions expressed by columnists and contributors are the author's alone. They do not inherently or expressly reflect the views, opinions and/or positions of our publication.
Calgary's Business is a Troy Media Digital Solutions Associate website