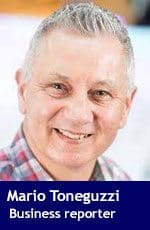 The Calgary Farmers' Market is planning a second location in the city, in the massive Greenwich mixed-use development along Hwy 1, across from WinSport, formerly known as Canada Olympic Park.
The new location will be 50,000 square feet and is scheduled to open in the spring of 2020.
"This new location has been a dream in the making for many years and we're so excited to share the news with Calgarians," said Rod Bradshaw, the Calgary Farmer's Market board president. "We will be the first world-class market to have a second location and we're ecstatic about bringing our vendors' incredible products to a new area of Calgary."
The market was founded in 2004 and called Currie Barracks home until 2010. Calgary Farmers' Market South has been in its current location off Blackfoot Trail and Heritage Drive S.E. since 2011. It hosts over one million visitors every year. It's open year-round with about 75 local vendors.
Michael Kehoe, an Alberta-based retail specialist with Fairfield Commercial Real Estate in Calgary, said that the northwest region of Calgary along the Trans-Canada Highway transportation corridor is the new retail battleground. He said the retail grocery giants will collide in a battle for market share in one of the most coveted trade areas in Western Canada.
"Grocery retailers with gorilla-sized footprints such as Loblaw with their Real Canadian Superstore, Save-On-Foods and potentially Costco are positioning their brands with high-profile locations west to the city limits and beyond into Rocky View County. In the shadow of this activity lies a sweet spot of a growing North American trend to community-based retailing that is gaining momentum in venues like farmers' markets," said Kehoe.
"The proposed farmers' market-oriented component of the Greenwich project will likely be typical of these styles of developments that feature local vendors along with social engagement spaces, microbreweries, wine bars and cultural spaces. Consumers are gravitating to walkable street-oriented shopping venues with a local/community identity where they often know the name of their local retailers that are situated in a pedestrian oriented, human scale shopping node within steps of where they parked all with a neighbourhood vibe. These 'alternative format' retailing venues are a residential and mixed-use developers dream as they differentiate their projects from the competing neighbourhoods in a competitive market and a soft economy."
Officials said Calgary Farmers' Market West will "transport you to old New York with the spirit of the Rocky Mountains. The second location will offer an engaging experience in a welcoming space to eat, connect, and be entertained in al-fresco style shopping and dining areas.
"Other notable features include private event space, outdoor mezzanine, an expansive indoor and outdoor kids' play area, as well as access to a designated birthday room. Customers can look forward to visiting over 75 vendors, many of which are the well-loved favourites of Calgary Farmers' Market South with the addition of some new, up-and-coming local businesses."
The Greenwich community by Melcor Developments is on 59 acres of land. It will include homes, office space, boutique retail shops, restaurants, park space and trails.
"We are proud and delighted that the Calgary Farmers' Market has selected Melcor's community of Greenwich as their second Calgary location. Melcor Developments Ltd. is dedicated to building a unique mixed-use community in west Calgary where residents and visitors alike can experience authentic living, shopping, working and playing and we know the Calgary Farmers' Market will be an ideal component to this equation," said Darin Rayburn, president and CEO of Melcor. "From one Alberta company to another, we are excited to celebrate a new exciting shopping destination for Calgarians."
Catharina Mendonca, marketing manager at Melcor Developments, added that Greenwich "will be an instant destination in Calgary's west end for residents and shoppers alike."
Mario Toneguzzi is a veteran Calgary-based journalist who worked for 35 years for the Calgary Herald, including 12 years as a senior business writer.
---

The views, opinions and positions expressed by columnists and contributors are the author's alone. They do not inherently or expressly reflect the views, opinions and/or positions of our publication.