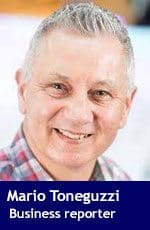 The participation and employment rates of full-time students aged 15 to 24 registered notable declines following the 2008-2009 recession, says a report released on Friday by Statistics Canada.
"In fact, this group experienced the largest decrease in the participation and employment rates among youth, which wasn't completely offset some nine years later," said the report Students in the labour market: After the recession.
"In the 2007-2008 academic year, the school year preceding the recession, the participation rate for students reached 46.8 per cent, its highest level since the start of the series in 1976. This high rate was partly driven by older students (i.e., those aged 18 to 24) whose participation rate also rose to its highest rate on record, at 51.1 per cent that year. By 2016-2017, however, the rate for students decreased to 42.9 per cent, or 3.9 percentage points below the 2007-2008 level. Similarly, the employment rate for this group declined from 41.4 per cent to 37.4 per cent over the same period.
"In contrast, the participation rate for non-students was little changed at 87.4 per cent in 2016-2017, while the employment rate for this group edged down 1.2 percentage points, reaching 76.7 per cent in 2016-2017."
The report said that the labour market situation of Canadian youth has been a source of preoccupation of late, with key labour market indicators related to this group not having fully recovered from their pre-recession levels nearly 10 years after the economic downturn in 2008-2009.
"As in earlier recessions, previous research noted that following the start of the economic downturn in October 2008, youth bore a disproportionate share of job losses. While only contributing to roughly 15 per cent of all employed persons at the time, youth contributed to more than half of the decrease in employment by October 2009. Among youth, students were the most negatively affected by the downturn.
"A recent study comparing the labour market situation of students in Canada and the United States suggests that cyclical factors may have played a larger role in the post-recession downward trend in the labour force participation of full-time students in Canada compared to the U.S. This suggests that an increase in the participation rate of full-time students in Canada may still occur should labour market conditions continue to remain strong."
Mario Toneguzzi is a veteran Calgary-based journalist who worked for 35 years for the Calgary Herald, including 12 years as a senior business writer.
---

The views, opinions and positions expressed by columnists and contributors are the author's alone. They do not inherently or expressly reflect the views, opinions and/or positions of our publication.