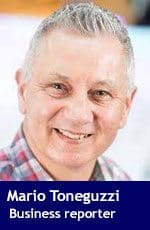 Kelowna and Edmonton are poised to become hot spots for Canada's cannabis market post-legalization with competing cannabis enterprises looking for operating space in both cities, says a RE/MAX Commercial Investor Report released on Thursday.
"The upcoming legalization of cannabis is continuing to have a major impact on the commercial real estate market this year," said Elton Ash, regional executive vice-president of RE/MAX of Western Canada. "In Kelowna and Edmonton, the cannabis industry is slowly absorbing the existing industrial spaces and development lands, which has contributed to the rise in lease rates for those areas."
The report said Kelowna's commercial real estate market saw an eight per cent decrease in total sales value for commercial property types year-over-year, but the city has identified more than 900 locations for retail spaces. It's expected that the approval of licences will be extremely competitive, further driving prices up for the remainder of 2018 and beyond, it said.
"Edmonton is also welcoming the addition of an 800,000-square-foot facility by Aurora Cannabis, which is contributing to the positive growth in the total sales value for the city's commercial properties, topping $1 billion. This was also the case in 2017 at the mid-year point. Although office and retail sales have not been as strong in the first half of the year, there are more than $500 million worth of completed transactions slated for the third quarter of 2018. Furthermore, the price of oil is continuing to stabilize with increasing global demand, helping Edmonton's commercial property market along the road to economic recovery," said the report.
"Like Edmonton, Calgary's commercial real estate market primarily revolves around the city's oil and gas sector. Factors including the increase of oil prices, higher interest rates from the Bank of Canada and the Trans Mountain pipeline project have made buyers in the region more cautious, contributing to a significant year over year decline of 28 per cent in total property sales. However, Calgary is expected to remain stable as we head into 2019 due to a variety of reasons including the investment of big technology companies in the area."
"Investment by major companies like Amazon in Calgary and Greater Vancouver is evidence that commercial real estate – office space specifically – in Western Canada remains a hot commodity," said Ash. "As Canada continues to push further ahead in areas like technology, investors both domestic and abroad see the potential for growth here and are willing to call Canada home."
Mario Toneguzzi is a veteran Calgary-based journalist who worked for 35 years for the Calgary Herald, including 12 years as a senior business writer.
---

The views, opinions and positions expressed by columnists and contributors are the author's alone. They do not inherently or expressly reflect the views, opinions and/or positions of our publication.