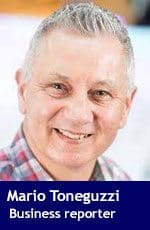 A new study by the Smith School of Business at Queen's University finds that Calgarians recognize the city has an opportunity to become Canada's next technology innovation hub.
But the dominance of the oil and gas sector is the biggest barrier it faces in achieving that goal.
The poll found that 78 per cent of Calgarians believe the city has the potential to be the next innovation hub in Canada.
The biggest barriers to getting there are:
lacking the will to move away from the energy sector, 39 per cent;

the lack of incentives/tax credits to encourage tech startups, 35 per cent;

a lack of familiarity with financial technology, or fintech, 33 per cent.
"Calgary is such a great city and has always been a very entrepreneurial city," said Elspeth Murray, an associate professor of Strategy and Entrepreneurship and associate dean for the MBA and master's programs at the business school. "Certainly in the oil and gas sector with the juniors and the availability of capital and the risk taking etcetera which are all important ingredients. It's just been really focused in oil and gas.
"I have always thought, and certainly the survey results suggested the same, that those same ingredients if focused on a different sector should be able to pay dividends. Unlike some other cities where that sort of entrepreneurial spirit and that great community and that can-do attitude and a history of all kinds of success in doing new and cool things, a lot of those places don't have those core ingredients. And Calgary does."
Murray said oil and gas has been successful in Calgary over many years and over many cycles. But now the expected recovery from the oil price collapse in the latter half of 2014 is not as forthcoming as in the past. It's taking longer than people would expect.
That may be driving a more concerted effort to move outside of the city's dependence on oil and gas.
"The world is changing. It's hard not to pick up any publication that's not talking about technology whether it's block chain or artificial intelligence or analytics or wearable devices," said Murray. "So there is this juggernaut of technological change that is changing every industry including oil and gas. That's a big part of the impetus to really double down and go for it (diversifying Calgary's economy) at this point in time."
She said Calgary has the foundation to move successfully in that direction. And it also has a large pool of talent that would aid in the transition.
"People are bullish. The stat that really stood out for me was 78 per cent of Calgarians believe the city has the potential to be the next innovation hub. … We often sort of talk of moving away from the oil and gas sector but the reality is technology is everywhere and a huge opportunity within the oil and gas space to come up with new businesses that complement the core, expertise and critical mass in oil and gas. So really using AI in a variety of different ways – everything from running the plant to exploring for new sources and so on and so forth. The oil and gas sector and all of the other sectors are not mutually exclusive by a long shot.
"That's good news for Calgary – taking all of that talent and the opportunities and really looking at how technology can unleash a new wave of new businesses."
Some other key findings in the poll include:
31 per cent of those working in oil and gas would like to land a job or set up a new business in fintech/technology;

Less than a quarter (23 per cent) of respondents are familiar with fintech/technology;

Men (32 per cent) are more familiar with fintech compared to women (13 per cent);

15 per cent of respondents say their business is starting to access machine learning and artificial intelligence, while 58 per cent are not.
Mario Toneguzzi is a veteran Calgary-based journalist who worked for 35 years for the Calgary Herald, including 12 years as a senior business writer.
---

The views, opinions and positions expressed by columnists and contributors are the author's alone. They do not inherently or expressly reflect the views, opinions and/or positions of our publication.