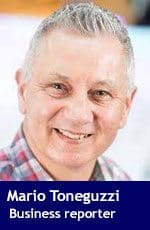 Deloitte has expanded its global Greenhouse program with the opening of the new state-of-the-art office environment in downtown Calgary.
The Calgary Greenhouse joins four state-of-the-art Canadian locations in Ottawa, Montreal, Toronto, Kitchener-Waterloo, in addition to a global community of over 25 Greenhouses worldwide.
"Thinking differently, doing things differently and thereby being different by leveraging the opportunities created by ever expanding capabilities across innovation, data, analytics, artificial intelligence and digital is what it is all about. It is what we call Disruption by Design," said Lynette Horton, partner and national leader for the Greenhouse program at Deloitte Canada.
"The economy is ripe for a program like the Greenhouse and with Calgary being the hub of innovation, we know the impact will be significant. The program is specifically designed to help organizations solve their toughest business challenges – faster," added Munir Patel, Prairie regional Greenhouse partner at Deloitte Canada.
Deloitte said the Greenhouse program is engineered to help organizations "ideate, prototype and break through" complex business issues to drive success in this new digital era.
It said one of the most unique elements included in every session at the Greenhouse is the Discovery Zone. This is where clients can explore the art of the possible by experiencing emerging technology trends, new business models and disruptive platforms to spark creative thinking that inspires strategic conversations. The current curated collection includes artificial and cognitive intelligence, mixed realities, advanced manufacturing, collaborative platforms, networks and sensors, and advanced robotics, added Deloitte.
"We challenge our clients to broaden their focus and begin thinking in terms of 'what's out there now that could disrupt our business? Or how they could be at the forefront of disrupting their business and industry,'" said Alexander Milosevic, manager of Discovery Zone and Exponentials at Deloitte Canada.
Deloitte provides audit and assurance, consulting, financial advisory, risk advisory, tax and related services to public and private clients spanning multiple industries.
"Every Deloitte Greenhouse session is an immersive, high-touch, high-tech experience that is based in an environment that has been customized to your unique strategic needs and tailored to innovative thinking. Drawing on the combined knowledge of our global network of subject matter experts, as well as a proven disruption by design methodology, we create meaningful experiences to challenge the way our clients think," said the company.
"Our sessions are designed to reveal insights and spark discussions around concepts they may not be thinking about, such as the integration of their analytics, innovation, and digital capabilities to reshape their business. By the end of your session, you will have a tangible strategy supported by an action plan that will help you implement the changes needed to achieve breakthrough results. No two sessions are ever alike."
---

The views, opinions and positions expressed by columnists and contributors are the author's alone. They do not inherently or expressly reflect the views, opinions and/or positions of our publication.