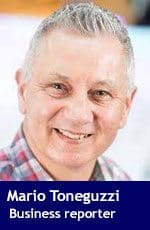 A unique store selling a smoke-free alternative to conventional cigarettes is opening a flagship location today in the West Edmonton Mall.
The store, operated by Rothmans, Benson & Hedges Inc., sells the IQOS product that is designed to help people quit smoking. IQOS is an electronic device that heats tobacco instead of burning it.
The store has opened with a twist – no name on its signage. That's because Health Canada regulations prohibit the brand from being identified in its signage.
It's the company's fifth location in Canada and first in an enclosed mall.
"I think we can continue to expand our footprint. One of the reasons we wanted to try in the West Edmonton Mall was to see how much more successful we can be if we're in a high traffic location like WEM. I see opportunities for a number of additional stores, particularly to cover effectively the larger cities. We want to have it convenient for people to not only find and buy the device but also to get service if they have any issues with the device and to really provide a good experience for someone that they'll only get in a retail environment," said Peter Luongo, the managing director of Rothmans, Benson & Hedges, the Canadian subsidiary of Philip Morris International. 
The Edmonton store is about 2,000 square feet, more than double the size of the company's other Canadian stores: two standalone streetfront locations in Toronto, and one each in Vancouver and Calgary.
"We think it's very helpful to have something that's easily accessible for people where adult smokers will be able to find and access and learn more about," said Luongo about the West Edmonton Mall store.
He said the ongoing expansion is part of Philip Morris International's goal to replace cigarettes with smoke-free products.
"We were looking at a retail footprint in Edmonton. We didn't have a real store here yet so we saw it as a good place to expand. We were able to work very well with the team at the West Edmonton Mall in terms of finding the right location, finding the space that worked for us. And we're just very excited about the opportunity to do more in Edmonton as opposed to adding an additional store in a city where we already had some presence," said Luongo.
He said the company is contemplating the best way to rename the stores to comply with Health Canada regulations.
More information about the product and the company can be found at IQOS.com.
---

The views, opinions and positions expressed by columnists and contributors are the author's alone. They do not inherently or expressly reflect the views, opinions and/or positions of our publication.