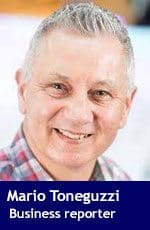 Good news for Alberta consumers.
Statistics Canada reported Wednesday that prices in the province fell in November from October at a greater pace than the Canadian average.
The Consumer Price Index in Alberta was down 0.5 per cent compared with a decline of 0.4 per cent across the country.
On an annual basis, however, prices in the province rose by 1.7 per cent which was the same amount as the CPI increase in Canada. But the pace of annual inflation eased at much greater level in Alberta. In October 2018, Alberta's annual inflation rate was 2.8 per cent compared with 2.4 per cent in Canada.
The federal agency said November's increase was the smallest year-over-year increase in the CPI since January 2018, primarily reflecting recent declines in gasoline prices. Excluding gasoline, the CPI rose 1.9 per cent in November.
"All eight major components rose year over year. The shelter index (+2.4 per cent) was the largest contributor to the increase. Recent interest rate increases continued to impact the mortgage interest cost index (+7.2 per cent) in November, which recorded its largest year-over-year gain since October 2008," said StatsCan.
"Energy costs declined 1.3 per cent compared with November 2017, following a year-over-year increase (+7.9 per cent) in October. Gasoline prices fell 5.4 per cent year over year, as declining global crude oil prices led to lower prices at the pump and the first 12-month decrease in the gasoline index since June 2017. Similarly, the year-over-year gain in the price of fuel oil and other fuels was smaller in November (+17.0 per cent) than in October (+25.0 per cent)."
The federal agency said prices for durable goods declined 0.1 per cent year over year, following a 0.9 per cent gain in October. The purchase of passenger vehicles index rose 0.8 per cent after increasing 1.7 per cent in October, amid lower availability of new model-year vehicles compared with November 2017. Consumers paid less for furniture (-2.1 per cent) and tools and other household equipment (-0.4 per cent) year over year.
---

The views, opinions and positions expressed by columnists and contributors are the author's alone. They do not inherently or expressly reflect the views, opinions and/or positions of our publication.