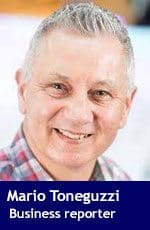 Former U.S. president Barack Obama is coming to Calgary to speak.
Calgary-based TINEPUBLIC, a communications company run by entrepreneurs Christian Darbyshire and Andy McCreath, have secured the 44th president of the United States to speak on March 5 at the Calgary Scotiabank Saddledome.
"Few presidents have walked a more improbable path to the White House. Born in Hawaii to a mother from Kansas and a father from Kenya, Obama was raised with help from his grandparents, whose generosity of spirit reflected their Midwestern roots," said TINEPUBLIC in a news release on Monday.
"The homespun values they instilled in him, paired with his innate sense of optimism, compelled Obama to devote his life to giving every child, regardless of his or her background, the same chance America gave him.
"After working his way through college with the help of scholarships and student loans, Obama moved to Chicago, where he worked with a group of churches to help rebuild communities devastated by the closure of local steel plants. That experience honed his belief in the power of uniting ordinary people around a politics of purpose, in the hard work of citizenship, to bring about positive change. In law school, he became the first African-American president of the Harvard Law Review, then he returned to Illinois to teach constitutional law at the University of Chicago and begin a career in public service, winning seats in the Illinois State Senate and the United States Senate."
Obama was elected president on Nov. 4, 2008, and served two terms.
The event in Calgary is billed as A Conversation with President Barack Obama and will take place at noon on March 5. Tickets go on sale on Wednesday at 10 a.m. For ticket information, go to www.ticketmaster.ca  or call 1-855-985-5000.
Calgary's Business is a Troy Media Digital Solutions Associate website.
---

The views, opinions and positions expressed by columnists and contributors are the author's alone. They do not inherently or expressly reflect the views, opinions and/or positions of our publication.