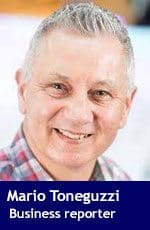 There was a ray of hope at the end of 2018 for Calgary's beleaguered office market.
But that may be short-lived.
According to a report released Wednesday by real estate firm Avison Young, the Calgary office market registered the first positive annual absorption – the change in occupied space – in four year in the last quarter of the year.
But that's not reason to break out the champagne just yet.
"While 2018 ended on a positive note, the fact that we saw positive absorption in 2018 without seeing any material change in the overall vacancy emphasizes how challenged the Calgary office market has been," said Todd Throndson, Principal and Managing Director of the company's Calgary office. "Fourth-quarter 2018 resulted in 216,000 square feet of positive absorption in the Downtown market, which contributed to the 400,000 square feet of absorption recorded for all of 2018 in the downtown. While it is great to see the direction change from the multi- million-square-foot-negative-absorption years of 2015 and 2016, the increase has not been material enough to instil the confidence needed to boost the outlook in Calgary.
"Fourth-quarter 2018 had two major stories: Nexen Energy's relocation to The Bow and Canadian Tire's consolidation and relocation to the Jacobs Building in Quarry Park. Nexen Energy has signed short- to medium-term leases for sublease space in The Bow but there is uncertainty regarding the company's long-term existing lease in Nexen Tower. Meanwhile, Canadian Tire consolidated its local operations into a single office location in the Jacobs Building in Quarry Park totalling approximately 240,000 square feet. The majority of Canadian Tire's operations moved from industrial properties, resulting in an impressive amount of positive absorption for the suburban office market."
The Avison Young report said the city's downtown office vacancy rate of 24.7 per cent, was down from 25.2 per cent in third-quarter and from 26 per cent at year-end 2017. Peak vacancy (26.4 per cent) for this downturn was in the second quarter of 2017.
"However, with the impending addition of TELUS Sky in first-quarter 2019, vacancy is forecasted to rise as high as 26.3 per cent upon delivery. Downtown office vacancy could move higher if speculated energy job layoffs actually occur, potentially leading to the highest vacancy rates ever recorded in the city," said the report. "Many oil and gas companies are once again taking a wait-and-see approach regarding office space decisions as they work through their capital plans for 2019 and assess how the political landscape will unfold during the year. With both provincial and federal elections set for 2019, many companies are relying on political change to help move the industry forward. It is anticipated that leasing activity in the first half of 2019 will be quite slow."
Net annual absorption in the Beltline for 2018 was negative 87,000 square feet – an improvement from 2017, which recorded negative 214,000 square feet of annual absorption. Beltline vacancy rate of 19.4 per cent was down from 19.7 per cent in the third quarter but up from 18.4 per cent in the fourth quarter of 2017.
Calgary's Business is a Troy Media Digital Solutions Associate website.
---

The views, opinions and positions expressed by columnists and contributors are the author's alone. They do not inherently or expressly reflect the views, opinions and/or positions of our publication.