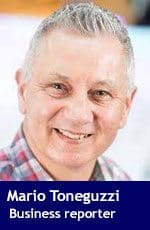 Calgary Municipal Land Corp. is partnering with the Calgary Stampede to develop the east Victoria Park neighbourhood.
Under its agreement with Calgary Stampede, one of CMLC's first tasks is to secure a hotel development partner to support the needs of the planned BMO Centre expansion at Stampede Park.
CMLC has issued a request for proposals to undertake discussions with qualified prospects and secure a partner for the site.
"We have worked closely with CMLC over the past two years to ensure the aspirations of the Rivers District Master Plan align with the community's vision for Stampede Park. This comprehensive strategic vision is a catalyst to move the district and the city forward," said Warren Connell, CEO of the Calgary Stampede, in a statement.
"This agreement creates an immediate opportunity to bring the master plan to life by attracting the calibre of private investment partners the district needs today."
In a news release, CMLC said it is determined to bring the same energy, appeal and investment to east Victoria Park that its redevelopment and place-making strategies over the past 12 years have injected into neighbouring East Village.
"Since 2007, when we embraced the challenge to redevelop and revitalize downtown Calgary's east end, CMLC has transformed East Village into a vibrant, livable neighbourhood by implementing the City of Calgary's 2007 Rivers District Community Revitalization Plan and the East Village Master Plan that we developed in 2009," said Michael Brown, president and CEO at CMLC, in a statement.
"To help make downtown Calgary much more livable – and loveable – CMLC tackled the East Village challenge first by completing the major infrastructure upgrades necessary to attract meaningful private investment. We then forged relationships with key residential and commercial developer partners and made strategic land sales to bring the master-plan vision to life, all while managing the creation of community gathering spots like St. Patrick's Island and the construction of landmark projects like the new Central Library.
"Now, with our shareholder's approval of our Rivers District Master Plan, we can begin the infrastructure programs pivotal to our plan to transform east Victoria Park into Calgary's Culture and Entertainment District."
The Rivers District Master Plan has a vision and a plan for building on east Victoria Park's foundation as the city's Culture and Entertainment District.
"In east Victoria Park, CMLC's focus will range from underground utility upgrades, streetscape improvements, and parks and open spaces – all integral to creating a compelling sense of place – to important 'mega-projects' like the planned expansion of Calgary's BMO Centre," it said.
CMLC recently inked a marketing agreement with the Calgary Stampede and will lead the marketing and development strategy of Stampede-owned lands for mixed-use development opportunities crucial to realizing the vision articulated in the Rivers District Master Plan, it said.
"This project involves a significant portion of land within the district – approximately 30 acres south of 12th Avenue SE around the entry to Stampede Park – and Calgary Stampede's vote of confidence in our team for this significant opportunity is a testament to the quality of the work we've done to revitalize downtown Calgary's east end – first in East Village and now in the broader Rivers District," said CMLC.
– Mario Toneguzzi for Calgary's Business
---

The views, opinions and positions expressed by columnists and contributors are the author's alone. They do not inherently or expressly reflect the views, opinions and/or positions of our publication.