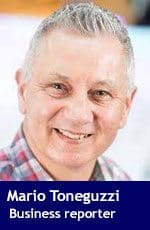 The Alberta government is establishing a new Energy Upgrading Unit, which it says will "supercharge energy diversification" across the province.
"Alberta is a world leader in energy with the expertise and innovation to refine our energy into products the world needs. Instead of shipping jobs south, we're going to keep them here, where they belong. This made-in-Alberta upgrading strategy will help us take control of our future by making sure Albertans get more value from the resources they own," said Alberta Premier Rachel Notley in a news release.
The new unit will report to the Office of the Premier.
"As a result of royalty credit programs, a $3.5-billion petrochemical processing complex is under construction northeast of Edmonton that will upgrade Alberta natural gas into plastics used to make products we use every day," said the government.
"In spring 2018, the government took further action through the Energy Diversification Act to create more jobs by adding value to Alberta's oil and gas resources. The programs included support to leverage private-sector investment in petrochemical processing and partial upgrading. Further announcements on Alberta-made solutions for upgrading and refining will be made in the coming days."
The government said Round 2 of the Petrochemicals Diversification Program provides $500 million in future royalty credits for approved projects that will build manufacturing facilities to turn ethane, methane and propane into more valuable products.
"A first round of the Petrochemicals Diversification Program, in 2016, resulted in two approved projects that will receive a total of up to $500 million in royalty credits. Construction of the first project is underway and a final decision on the Canada Kuwait Petrochemical Company facility is expected in the coming months," said the Alberta government. "These projects are expected to create up to $6 billion in new investments, as well as 4,000 jobs during construction and 250 jobs during operations. Construction of one of those projects, Inter Pipeline's propane processing plant, is already underway east of Edmonton."
It also said Petrochemical Feedstock Program provides $500 million in grants and loan guarantees to companies that will set up facilities to process natural gas into its various components – mainly methane, ethane, propane and butane and the Partial Upgrading Program provides $200 million in grants and $800 million in loan guarantees to help develop two to five partial upgrading facilities in Alberta, and will create approximately 4,000 construction jobs and 200 operational positions.
---

The views, opinions and positions expressed by columnists and contributors are the author's alone. They do not inherently or expressly reflect the views, opinions and/or positions of our publication.