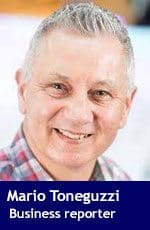 Calgary and Edmonton Chambers are asking that Alberta's next government remove barriers to drive business growth and act immediately to reduce business costs and regulatory burdens that are limiting economic growth and community prosperity.
In a joint news release on Thursday, just days after an election was called for April 16 in the province, the Chambers urge all parties to spell out how they will establish trust with the business community and build a business environment that will support market and job growth.
"Many Edmonton businesses have been pushed to the breaking point," said Janet Riopel, Edmonton Chamber president and CEO. "While economic forecasters and politicians keep saying the economic downturn is behind us, sadly that is not what we are hearing from our members. We talk to business owners and operators every day and they tell us that the struggle continues."
Riopel said the impacts of the rushed increase to the minimum wage, higher corporate taxes, the introduction of a carbon tax and new employment standards and labour code changes have impacted competitiveness and resulted in business closures and job losses.
"Both cities offer what should be among the greatest places in North America to operate a thriving business," said Sandip Lalli, president and CEO of the Calgary Chamber, in a statement.
"Businesses want to grow, however our competitive advantages continue to be challenged by layered costs from increased taxes, fees and expensive new regulations from all levels of government."
Lalli said households are struggling to find work, pay rent and mortgages and maintain a quality of life they have worked hard to achieve.
"Once known as a province where risks were often rewarded, many investors now see Alberta as too risky," said Lalli. "As a result, companies are investing outside of Alberta, capital budgets are shrinking and sadly, businesses are closing, and people are losing their jobs.
"But there is a path forward, there are opportunities to invest in Alberta, and with a more certain and competitive cost and policy environment both cities are ready to get moving and get moving quickly."
The Edmonton Chamber's platform can be found here. Policy recommendations from the Calgary Chamber can be found here and the full platform can be found here. 
Mario Toneguzzi is a Troy Media business reporter based in Calgary.
---

The views, opinions and positions expressed by columnists and contributors are the author's alone. They do not inherently or expressly reflect the views, opinions and/or positions of our publication.