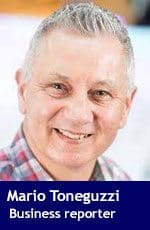 A report by Altus Group Ltd. says Calgary has seen the highest increase in the country when it comes to the tax rate ratio between commercial and residential properties.
The 2018 Canadian Property Tax Rate Benchmark Report, which provides an in-depth look at property tax rates in 11 major urban centres across Canada, said the ratio in Calgary rose by 11.95 per cent from 2.730 in 2017 to 3.056 in 2018.
The report said it indicates a "growing burden on commercial rate payers" in the city.
And for the first time in 14 years, Calgary ranks above the average ratio which grew by 0.6 per cent to 2.898 in 2018 from 2.896 last year.
In Edmonton, the ratio was up by 0.119 per cent to 2.443 from 2.440 in 2017.
"The commercial-to-residential tax ratio is still far from being fair as we continue to see several cities across Canada shifting the burden of property taxes to business owners," said Terry Bishop, president of Property Tax Canada at Altus Group, in a statement.
"Municipalities should recognize that bringing down the commercial property tax rate is important to help make their cities more appealing to businesses, which helps create job growth and leads to sustainable revenue for the city."
Altus Group said Calgary saw the largest increase in commercial tax rates in 2018 for the second year in a row, with a jump of 9.478 per cent.
"As the downtown office market continues to struggle with high vacancy, Calgary is experiencing a drastic shift of tax liability towards the commercial tax base, opposed to the residential tax base. This has resulted in industrial and retail properties seeing unprecedented tax increases over the last four years in Calgary," said the report.
Calgary's downtown office market continues to struggle with vacancy remaining above the 25 per cent range. The market was hit hard following the collapse in oil prices in the latter half of 2014, which triggered recession in 2015 and 2016.
Mario Toneguzzi is a veteran Calgary-based journalist who worked for 35 years for the Calgary Herald, including 12 years as a senior business writer.
---

The views, opinions and positions expressed by columnists and contributors are the author's alone. They do not inherently or expressly reflect the views, opinions and/or positions of our publication.