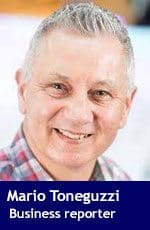 Strained economic conditions in Calgary have led to the city's luxury home market retreating further into buyers' market territory, according to a report released on Wednesday by Sotheby's International Realty Canada.
The company's national report on top-tier residential real estate in Canada's major markets said Calgary's uneven economic recovery stalled in the last quarter of the year as crude oil prices fell to record lows, setting back incremental progress made in the city's top-tier real estate market.
While residential real estate sales over $1 million had recovered 11 per cent in 2017 over 2016, $1 million-plus real estate sales fell 10 per cent in 2018 from 2017 levels, it said.
"Canada's top-tier real estate market performance was dominated by Eastern Canada's two largest metropolitan areas in 2017. Toronto's top-tier real estate market emerged as a bastion of resilience, due in large part to the region's stable economy and rapidly expanding population. Consumer psychology bounced back from temporary setbacks brought on by policy changes, rising rates and tighter lending guidelines," said Brad Henderson, President & CEO, Sotheby's International Realty Canada. "Montreal's record-setting momentum continued in 2018, but there are clear indications that the market is now settling in at healthy levels."
According to Henderson, both the Vancouver and Calgary top-tier real estate markets remain vulnerable to further declines as inventory builds, albeit for different reasons. However, there are signals that prospective buyers and sellers who remained on the sidelines in 2018 are prepared to re-engage in market activity in the coming months.
"Sales activity and housing prices in the City of Calgary's top-tier real estate market trended downward throughout 2018, as consumer confidence faltered with the province's uneven economic recovery. Although Alberta's economy expanded in line with provincial budget targets through the first three quarters of the year, conditions deteriorated in the fourth quarter as Alberta crude oil prices plummeted to record lows," said the report.
"Within Calgary, an above-national average unemployment rate of 7.9 per cent, ongoing job insecurity, and rising barriers to home ownership brought on by stricter mortgage regulations and rising interest rates weighed on conventional and luxury market performance."
Sotheby's said overall, Calgary's $1 million-plus residential real estate sales fell 10 per cent to 611 homes (condominiums, attached and single family homes) sold in 2018, compared to 677 units sold in 2017.  Top-tier inventory increased as homeowners sought to exit the market in face of soft consumer demand.
"Challenging 2018 market conditions set back progress made in 2017, when overall residential real estate sales over $1 million rose 11 per cent over 2016.  $1 million-plus single family homes saw a nine per cent decline in sales volume to 539 homes sold in 2018, while attached home sales over $1 million fell 39 per cent to 43 homes sold. Calgary's top-tier condominium market saw more unit sales in 2018 as motivated sellers exited the market, but remained significantly oversupplied. 29 $1 million-plus condos sold in Calgary in 2018, up 142 per cent from the 12 units sold in 2017," added the report.
"As Calgary enters its third year of economic recovery in 2019, weaker oil prices, persistent access issues to global oil markets, and downgraded forecasts for investments, exports and GDP are contributing to a somber outlook. The city's conventional and luxury real estate markets continue to favour buyers in the year ahead."
---

The views, opinions and positions expressed by columnists and contributors are the author's alone. They do not inherently or expressly reflect the views, opinions and/or positions of our publication.