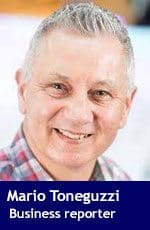 Retail giant Costco is the anchor tenant of the new Taza development on Tsuut'ina Nation.
Tsuut'ina is partnering with Canderel on the project that includes The Shops at Buffalo Run, a major retail centre that encompasses 45 acres and 400,000 square feet of retail, entertainment and restaurant uses.
It will be home to the first Costco ever to be located on First Nation land. And it will be the sixth Costco in the Calgary market area.
The 150,000-square-foot store, now under construction, will be at the corner of the new southwest Calgary Ring Road and 130th Avenue. It's scheduled to open in the summer of 2020. The Shops at Buffalo Run will include another 250,000 square feet adjacent to Costco with tenant openings scheduled for the summer of 2021.
"This signifies another major step forward for Taza and is reflective of the economic and social vision the Tsuut'ina Nation and its leadership have had for decades. We have been investing in the future of our Nation for many years; from businesses like Sarcee Gravel and the Tsuut'ina Gas Stop to the Grey Eagle Resort and Casino to the recently opened Seven Chiefs Sportsplex and Chief Jim Starlight Centre," said Chief Lee Crowchild.
"We have been building up our own infrastructure and social programs, recently opening the Bullhead Education Centre, the new Tosguna Police Station, and are now under construction with a new high school.  Taza is an extension of all these investments. We want more than to just participate in the future, we want to be leaders – Together at Tsuut'ina.
"Being home to the first Costco on First Nations land is both an honour and a privilege. Costco is one of the largest retailers in the world, and we are thrilled that their business judgment brought them to Taza and to Tsuut'ina."
"From the very first day it was imperative at Canderel that we combine our development experience with our long history of creating successful partnerships and bring them to the Taza project," said William Briscoe, who leads the team at Canderel charged with executing Taza on behalf of the partnership. "We clearly understood at the beginning that this is a 'transformative' development and that it had to be uniquely Tsuut'ina in all respects.
"What this partnership has created with Taza, and what the Tsuut'ina have done to bring business and visitors onto the Nation is an inspiration. We are here today because of the dedication and commitment that our teams brought together, and we are ecstatic that Costco has chosen to locate at Taza. It is very fitting for Taza that we can announce one of the world's leading retailers will now be operating on First Nation land. Taza is definitely open for business."
---

The views, opinions and positions expressed by columnists and contributors are the author's alone. They do not inherently or expressly reflect the views, opinions and/or positions of our publication.