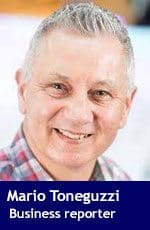 Alberta's Energy Minister lashed out at the federal Liberal government Thursday, blaming its policies for the decision by energy giant Encana Corporation to move its corporate headquarters to the United States and change its name to Ovintiv Inc. 
The Calgary-based company said the move still requires shareholder, stock exchange and court approval but it is expected to take place in early 2020.
"I sincerely hope today's news will serve as a wake-up call for leadership in Ottawa," said Sonya Savage, Alberta's minister of Energy. "It is no coincidence that today's news is being announced after the federal election.
"Sadly, I cannot say I am surprised, as Encana has been shifting its efforts to the U.S. for years, in large part due to harmful policies in Canada," she said.
In November 2018 , Encana announced it would move to a 'headquarter-less model' with a heavy shift to the U.S.
Savage pointed to a 2018 commentary by Encana's founding CEO.  "I would encourage all to read Encana founding CEO and energy pioneer Gwyn Morgan's 2018 commentary on how the company he founded is being pushed out of Canada due to policies from our federal government."
Calgarians expressed their anger on the development, laying blame on other Canadians as well as the government.
David Yager, a noted energy expert, author and speaker, said in a tweet: "Ouch. The 21st century edition of Canadian Pacific Oil & Gas (later Pancanadian) and Alberta Energy Company gives up on Canada. This is what our fellow Canadians support to sleep better at night and save themselves from the climate crisis."
Annie Dormuth, Director of Provincial Affairs, Alberta, at the Canadian Federation of Independent Business, worried about the impact of the move on Calgary property taxes.
"The CFIB is troubled by the news of Encana relocating out of Calgary and to the United States. This is more bad economic news for Alberta, especially Calgary, during a time where small business confidence continues to remain low. Any time a major company exists downtown Calgary our members become worried and see more potential property tax increases on the horizon."
Encana CEO Doug Suttles said in a news release that the company is excited about its strategic transformation.
"Our company is positioned to compete in the broader markets and lead the (exploration and production) industry on the road ahead," said Suttles. "Over the last five-plus years, we have transformed our portfolio and our culture. We've created a high quality, liquids focused multi-basin portfolio. Our focus on innovation and efficiency is consistently delivering superior financial and operational performance. 
"A domicile in the United States will expose our company to increasingly larger pools of investment in U.S. index funds and passively managed accounts, as well as better align us with our U.S. peers. The change in corporate domicile will not change how we run our day-to-day activities. However, our actions show that we will leave no stone unturned to capture the value we deeply believe exists within our equity."
In coordination with the change in corporate domicile, a consolidation and share exchange will be completed for effectively one share of common stock of Ovintiv for every five common shares of Encana. A special meeting of Encana shareholders will be held in early 2020 to approve the name change, the share consolidation and the U.S. domicile. Approval by two-thirds of votes cast will be required to approve the changes, as well as stock exchange and Canadian court approvals, said the company.
The company did not say how many jobs in Calgary and Canada will be affected by the move. Nor did it say where specifically the company's office will be located in the U.S.
Savage said Encana told the province that the move does not involve elimination of jobs in Alberta, "nor does it alter the company's Canadian capital allocation plans."
In a conference call with investors, company executives said the move does not represent a shift in strategy but gives the company more opportunity to gain access to deeper pools of investment capital as well as levelling the playing field with comparable U.S. peers. They also said they do not expect any impact on the Canadian workforce both in the office or in the field.
Also on Thursday, Encana reported net earnings of $149 million, up from $39 million a year ago.
"Encana continues to deliver consistently strong financial performance," said Suttles. "Our business is delivering free cash flow today. We have been very disciplined with our capital allocation and today increased our outlook for 2019 volumes while maintaining our capital investment guidance. We have a unique combination of profitable liquids growth, the generation of free cash and a track record of returning cash to our shareholders. We are confident that our business model is sustainable and that it will ultimately be differentiated by the market."
– with files from Doug Firby
---

The views, opinions and positions expressed by columnists and contributors are the author's alone. They do not inherently or expressly reflect the views, opinions and/or positions of our publication.