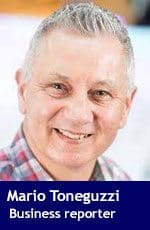 The University of Calgary's Haskayne School of Business has launched a new Trico Foundation Social Entrepreneurship Centre with $5-million gift from Wayne and Eleanor Chiu, BComm'85, through their Trico Charitable Foundation.
The donation will go towards U of C's $1.3-billion Energize: The Campaign for Eyes High.
"I believe that, by engaging the University of Calgary, we are definitely able to create a much greater impact in Canada and possibly around the world. If we are able to use social entrepreneurship by encouraging more business people to get engaged into doing good by doing well, I think that will be huge for Calgary," said Wayne Chiu, chairman, Trico Charitable Foundation.
Trico Homes is a prominent homebuilder in Calgary.
The university said the Trico Foundation Social Entrepreneurship Centre will support unique student experiences inside and outside the classroom including community-based learning, internships, curriculum and research. Students will be empowered with new opportunities and all the support they need to enhance their academic experience. Hands-on learning and tailored student experiences will make Haskayne the school of choice for students interested in social entrepreneurship, it said.
"Thanks to the vision of the Chiu family, we are helping our city to pivot towards an area where we offer unique strengths and capacity," said U of C President Ed McCauley. "Calgary is already a leader in innovation, with the highest number of new patents per capita in the country. We can be a leader in social entrepreneurship, too. The Trico Foundation Social Entrepreneurship Centre will be a launching point for so many great ideas to solve significant challenges and benefit society."
The university said social entrepreneurship uses business models — selling products or services — to solve social problems. 
"Unlike traditional philanthropy, a social enterprise makes a social impact with a business model that creates value and is financially self-sustaining," it said.
The Haskayne School and the Trico Charitable Foundation also announced a partnership to bring the Social EnterPrize award to Calgary in November this year –  a $100,000 biennial competition for leaders in Canadian social enterprise which will take place on the U of C campus. 
"New this year, we are also starting the What's Next YYC? to recognize Calgary-based social enterprises with four $25,000 prizes awarded on the same day as the Social EnterPrize," said the university.
"There's no better time in the history of the world for really diving into social entrepreneurship than right now," said Dr. Jim Dewald, PhD, dean of the Haskayne School of Business.
"You have to stand back and admire the foresight and vision of the Chiu family in seeing that social entrepreneurship is going to be important to our future. To partner with them at the Haskayne School of Business is such a gift for us, and I am so thankful for their support."
---

The views, opinions and positions expressed by columnists and contributors are the author's alone. They do not inherently or expressly reflect the views, opinions and/or positions of our publication.