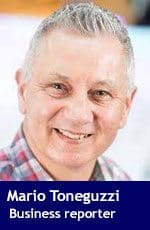 New home prices in the Calgary and Edmonton regions were on the decline in August, according to Statistics Canada.
The federal agency report on Thursday in its New Housing Price Index that prices fell by 0.4 per cent from July in the Calgary census metropolitan area and by 0.5 per cent in the Edmonton metropolitan area.
On an annual basis, prices were down 0.8 per cent in Calgary and 0.6 per cent in Edmonton.
Nationally, StatsCan said builders in 18 of the 27 census metropolitan areas surveyed reported flat or decreasing prices in August.
"The Canada-level index stood at 103.3 in August and has not risen above that mark since November 2017. Mortgage rate increases, along with tighter mortgage regulations, are likely contributing to the flatness observed across Canada," it said.
"Ottawa's new housing market (+0.6 per cent) registered the largest month-over-month gain in August. This was the 11th consecutive monthly price rise in that CMA, coinciding with an increasingly tight resale market. According to the Canadian Real Estate Association, new listings were down 8.5 per cent in August compared with the same period in 2017.
"Weakness in the housing markets in Alberta and Saskatchewan continued in August. New house prices declined in Regina (-0.7 per cent), Edmonton (-0.5 per cent) and Calgary (-0.4 per cent), while prices in Saskatoon were unchanged. According to the Canada Mortgage and Housing Corp., the inventory of newly completed and unsold single-family dwellings rose in all four CMAs – ranging from 11.4 per cent in Saskatoon to 34.4 per cent in Calgary – in August, compared with the same month a year earlier. Single-family dwellings include row, single, and semi-detached houses."
The federal agency said new house prices rose 0.4 per cent year over year in August, with annual price advances gradually slowing since October 2017. The largest 12-month gains in August were in Ottawa (+4.9 per cent) and London (+3.6 per cent). Four out of the five CMAs reporting 12-month declines were in Alberta and Saskatchewan, with Regina (-2.1 per cent) recording the largest decrease.
Mario Toneguzzi is a veteran Calgary-based journalist who worked for 35 years for the Calgary Herald, including 12 years as a senior business writer.
---

The views, opinions and positions expressed by columnists and contributors are the author's alone. They do not inherently or expressly reflect the views, opinions and/or positions of our publication.