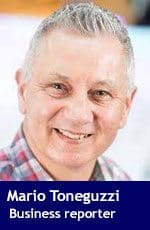 Bar and restaurant owners across the city are hoping a long run by the Calgary Flames in this year's National Hockey League playoffs will give them a much-needed boost.
The industry continues to struggle with an economy that remains uncertain, with rising food costs and the introduction of government policies such as increases to the minimum wage.
The playoff run is also seen as a potential boost to the spirit of a city gripped by recession since the collapse of oil prices at the end of 2014, with the subsequent loss of thousands of jobs.
"Industry aside, I just think this is a great thing for the city. I think we've had a lot of blows and this is something and this is something to really rally behind the whole city. It's a good thing for the atmosphere and the overall attitude of the city," said PJ L'Heureux, a restaurant and bar owner in Calgary.
"From a business standpoint, it's great. There's enough energy in the air that I think people are going to make their way downtown and I think they're going to be out in the restaurants. The game times are pretty because people will eat dinner and then go to the game as well. But overall I just think it's that energy that gives people more energy so it drives them out to the restaurants more."
For the Flames, the playoff run begins Thursday night at home at the Saddledome against the Colorado Avalanche.
Alberta's foodservice industry recently reported record sales in 2018, but Restaurants Canada warned that people should not be fooled by that.
In fact, it said, adjusted for menu inflation, year-over-year sales have been declining for the average restaurant since 2015.
"This has troubling implications for communities across Alberta," said Mark von Schellwitz, Restaurants Canada Vice President, Western Canada. "The foodservice sector is the province's third-largest employer and number one provider of first-time jobs for youth."
The organization said operational cost increases from government policy changes, combined with a weak provincial economy, have contributed to the following setbacks for Alberta's foodservice job market between 2015 and 2018:
A loss of 10,000 foodservice and accommodation jobs;

A decline in the average number of workers per unit from 13 to 11.7; and

A 5.1 per cent decrease in the average weekly hours for foodservice workers
Restaurants Canada shared 16 policy recommendations with Alberta's four major political parties on Jan. 14 in the hopes that they would be incorporated into all their platforms in the lead up to the next provincial election. A complete listing of these recommendations can be found at restaurantrealities.ca.
Recently, Restaurants Canada said more than a third of Alberta's restaurants are considering closing their doors due to mounting cost pressures which include an elevated minimum wage in the province, the carbon tax, rising expenses.
A survey by the organization found:
35 per cent of respondents said they have considered closing up shop following recent changes to provincial labour legislation;

94 per cent have increased menu prices as a result of minimum wages going to $15 per hour in October 2018;

88 per cent have decreased staff hours;

61 per cent have hired fewer youth for entry-level positions;

46 per cent have laid off staff; and

26 per cent have explored self-service solutions like touch pads and kiosks.
L'Heureux, who owns both CRAFT Beer Markets in Calgary, Trolley 5, Home & Away, and St. James Corner, said the great thing about the NHL playoffs is that people don't want to simply stay at home and watch the games. They want to be around people and the energy.
"To be honest, the first round is fairly normal (in terms of business)," he said. "It's really from there on end. There's a bit of a hangover from playoffs too. So if they go deep into the playoffs, people spend a lot of money so then it then actually hurts the rest of the year but for me in Calgary you can just feel the energy. There's just more people excited which is great. If they make it past the first round, which we all think they will, it's going to be very, very good for business."
Mario Toneguzzi is a Troy Media business reporter based in Calgary.
---

The views, opinions and positions expressed by columnists and contributors are the author's alone. They do not inherently or expressly reflect the views, opinions and/or positions of our publication.