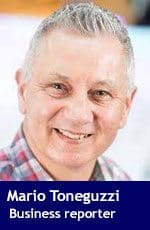 With the onset of the Stanley Cup playoffs, the Twitter world will be buzzing with an onslaught of tweets from fans and National Hockey League teams.
Christopher Doyle, director, global content, partnerships with Twitter Canada, says this is an ideal time for brands to connect with specific audiences on Twitter in Calgary, and elsewhere, during playoff games this season.
"Twitter actually presents an incredibly powerful canvas for brands and by that I mean it's an opportunity for them to do a few different things," said Doyle. "One is to connect to what's happening. So Twitter is what's happening and brands have an incredible opportunity to connect the biggest cultural moments that happen.
"And our platform allows for that because of the just robust nature of conversation that happens on Twitter. And brands are amazing part of that conversation."
Doyle said research has shown that Canadians have an incredibly personal relationship with the brands they follow on Twitter.
"We see these incredible spikes in conversation every single April when NHL playoff time rolls around. And you can imagine when we have Canadian teams in the playoffs how those spikes are elevated," said Doyle.
"When we take a look at the season for example that Flames have had and the conversation around their players, around the promise of an amazing post-season, we see opportunities for brands to align against this conversation.
"In our case, it means through an incredible partnership with Rogers Sportsnet, they have the ability to tweet out in real-time NHL highlights which they have done during the regular season and they're going to continue that through the post-season. I think what's incredible about it is we see  . . . a number of I guess you'd call them casual hockey fans who are now going to be really vested in the playoff run of any number of Canadian teams and especially in Calgary . . . We're excited about the playoffs on Twitter. It's always a massive conversation."
Twitter is offering brands the opportunity to reach these fans with near-live local highlights of Calgary Flames playoff games via Sportsnet. Local and national brands will have the ability to target this local audience and tap into the massive conversation that is #HockeyTwitter.
This is the latest in a big hockey season for Twitter that saw the launch of #IceSurfing embraced by brands like Budweiser, Reese's and Dell, followed by the debut of the #HockeyTwitter emoji and the first-ever NHL Behind the Tweets video.
Doyle said Twitter has the ability to have advertising targeted to Calgary Flames fans and the Calgary Flames conversation aligned against the Flames highlight clips.
"That's an ability we have and we offer to brands which I think is amazing," said Doyle. "So it's like on Twitter there's all these conversations happening in the platform and within these larger conversations you have these micro conversations that are around specific communities or topics. The hockey conversation is massive and within that the Calgary Flames conversation is massive and the ability to align a brand with this amazing Flames content and that conversation is pretty powerful.
"And they do that through pre-roll. The brand is running a pre-roll advertisement ahead of the video clip is how it works on Twitter."
– Mario Toneguzzi for Calgary's Business
---

The views, opinions and positions expressed by columnists and contributors are the author's alone. They do not inherently or expressly reflect the views, opinions and/or positions of our publication.