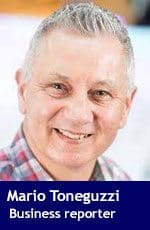 For the first time, Spruce Meadows has launched a Farm Stand & Maker's Market at the equestrian facility's National tournament, which runs from Friday through Sunday.
And the sprawling show jumping venue intends to operate the concept throughout all the summer events there.
More than 45 exhibitors will provide unique products and services from artisans and crafters to clothing items and collectables.
"It's kind of an evolution of sorts both through our own exhibits program here at Spruce Meadows and the market for such things as Farm Stand & Maker's Market – somewhat different than a farmer's market, particularly if you're launching in June. There's not a lot of produce ready this time of year in Alberta," said Ian Allison, senior vice-president of Spruce Meadows.
"But what we've really noticed with the economy changing over the last couple of years is that there's been a lot of smaller, startup cottage companies of Albertans who are making and producing materials here in Alberta. One of the requirements to be involved with it is that 80 per cent of what you do has to be Alberta made, Alberta built. That kind of thing. So we decided it was an opportune time to try it."
The concept will be housed in the Horizons Pavilion on west side of the Upper Plaza on the site.
"Hopefully, like all things at Spruce Meadows, we'll get a sense of what's good about it and what we can improve upon and what maybe doesn't work so well and it will maybe grow into something just like whatever the Spruce Meadows Summers Series has from being a junior horse show in the '70s," added Allison.
Mario Toneguzzi is a Troy Media business reporter based in Calgary. He writes for Calgary's Business.
---

The views, opinions and positions expressed by columnists and contributors are the author's alone. They do not inherently or expressly reflect the views, opinions and/or positions of our publication.