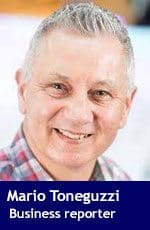 A report on Monday from Altus Group  says that for the second consecutive year, Calgary saw the largest ratio increase among 11 Canadian cities surveyed for the 2019 Canadian Property Tax Rate Benchmark Report. The report looks at the ratios between commercial and residential property taxes across the country.
Altus Group is a leading provider of software, data solutions and independent advisory services to the global commercial real estate industry.
"Calgary also saw the largest increase in commercial tax rates for the fourth year in a row, jumping by 13.36 per cent in 2019, representing a 55 per cent overall increase in Calgary's commercial tax rate over the last four years," said the report.
Calgary's commercial-to-residential tax ratio in 2019 is 3.310, which is up 8.3 per cent from a year ago. The average of those 11 major Canadian urban centres was 2.838, which fell by 1.4 per cent from last year.
Edmonton's ratio dipped by 1.5 per cent to 2.406.
Altus conducted the study in partnership with the Real Property Association of Canada.
---
---
"Despite seeing some major shifts this year, the commercial-to-residential tax ratio is still an issue of relative fairness as we continue to see several cities across Canada shifting the burden of property taxes to business owners," said Terry Bishop, president of property tax Canada at Altus Group, in a news release.
"Expecting businesses to shoulder the same burden while values decline, or taxes increase beyond business growth, is unsustainable. Measures that compress the gap between residential and commercial tax rates are positive steps that can help the viability of all businesses."
The report said Edmonton sits just below the national average and has remained relatively stable over the last four years.
"The rising valuations on commercial properties in Vancouver, Toronto and more recently Montreal, have begun to put more pressure on the sustainability of small commercial businesses. While small retail in these markets is being impacted by rising values, Calgary retailers are being equally impacted, but by declining values. In Calgary, the rapid decline in values of downtown core office buildings has caused a similar redistribution of taxes to small commercial properties which have not declined in value at the same rate," added the report.
"Although each city is addressing this issue with their own unique approach, these solutions will compound the problem of inequities in commercial property taxes and create further disparities in commercial tax rates. Assessment phase-ins and tax mitigation measures such as capping, rebate programs and graduated tax rates, only serve to compound the existing inequities in taxation and prolong the inevitable tax increases. Reducing the gap between residential and commercial tax rates is a measure that can help the viability of all businesses."
Montreal had the highest ratio in the country at 3.931 while Saskatoon had the lowest at 1.713.
---

The views, opinions and positions expressed by columnists and contributors are the author's alone. They do not inherently or expressly reflect the views, opinions and/or positions of our publication.