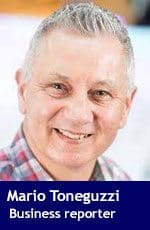 The downtown Calgary office market continues to see a trend of movement to quality.
And net asking rates have dropped to an historical low.
A report by commercial real estate firm CBRE says the overall market in the central business district experienced 153,402 square feet of negative absorption – the change in occupied space – in the second quarter of this year, pushing the vacancy rate up by 30 basis points to 27.8 per cent.
The report says Class AA space went against the trend with positive absorption of 164,097 square feet, lowering the vacancy rate in that space for the third consecutive quarter to 20.8 per cent.
However Class A and Class B space had negative absorption of 412,888 square feet in the quarter increasing vacancy to 24.5 per cent and 41.2 per cent respectively in those classes.
"With good activity in the Class AA market, the better product offerings are disappearing and headlease Class AA vacancy is now only 7.6 per cent," says the CBRE report.
"Unless more Class AA product comes available, the costs of moving into Class AA space will start to rise. The same cannot be said for all other classes, which have abundant supply and little demand."
In the second quarter, several companies continued to downsize and put significant product on the sublease market.
But there were also 11 transactions from companies leasing 20,000-plus square feet of space.
"Additionally, tenants from the suburban market continued to move to the downtown core to enjoy the downtown amenities and historically low rental rates in prime office space," says CBRE.
Overall net asking rates in the second quarter dropped for the 19th consecutive quarter to $12.30 square feet. They've contracted by 10.8 per cent year over year and are down 67.6 per cent since peak levels in 2007, according to CBRE research.
Total inventory for the Calgary downtown office market is close to 42.6 million square feet with the central core comprising close to 28 million square feet, which represents 65.6 per cent of the total downtown market.
Respected business writer Mario Toneguzzi is a veteran Calgary-based journalist who worked for 35 years for the Calgary Herald in various capacities, including 12 years as a senior business writer.
---

The views, opinions and positions expressed by columnists and contributors are the author's alone. They do not inherently or expressly reflect the views, opinions and/or positions of our publication.
Calgary's Business is a Troy Media Digital Solutions Associate website