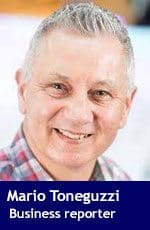 The Alberta Champions Society commemorated on Tuesday six outstanding individuals who have made a lasting impact on Alberta.
The society unveiled it newest monument at Spruce Meadows to honour David E. Black, Martha Cohen, Haider Dhanani, Ruth Gorman, John Robert (Bud) McCaig and Ron Southern.
The Alberta Champions Society was created in 2003 by Gordon Hoffman.
"He felt that Calgary had been served by so many outstanding individuals throughout the years, that it was important to create a form of recognition for their efforts," says the organization's website.
This recognition would serve two purposes: preserving Calgary's history and honouring the individuals who made strong contributions to it, and inspiring current citizens to achieve greater goals.
"Alberta Champions Society in Recognition of Community Enrichment was formed to commemorate, recognize and honour those Albertans that have made a significant contribution to the community in the city of Calgary and area. This will be achieved by creating Fields of Fame around the city as tributes to men and women of the past who contributed to the Calgary of today" says the organization."
Here is a short bio provided by the society of each of the individuals honoured on Tuesday:
David E. Black (1880-1972) moved to Calgary in 1903, on board the Harvester Excursion with little money and some food that spoiled. He was down to his last $0.25 by the time he arrived. He eventually opened his own small watch repair business. Railways ran on timepieces, so winning the CPR contract in 1904 as an official watch inspector gave Dave's business a substantial boost. In that era all railway men going through Calgary had to have their timepieces checked every two weeks against the Dominion time signal transmitted into Dave's store.
By 1918 David E. Black & Company had become the largest watch repair business in Canada.  In 1920 his company was purchased and became the Calgary Branch of Henry Birks and Sons. In 1923 David Black was elected Director of Henry Birks and Sons. Subsequently (1938), he became President of the new Henry Birks and Sons (Western) Ltd. A replica of David E. Black's first 7' by 14' store stands in Heritage Park, funded by Henry Birks and Sons. He was a City of Calgary Alderman from 1919 to 1920 director of the first Calgary Stampede (1912) and was eventually made an honorary life Director of the Calgary Exhibition and Stampede. David Black was a successful businessman who took that extra step through his personal dedication and significant philanthropy, to make the City of Calgary a better place to live.
Martha Cohen (1920-2015) dedicated much of her life to making Calgary a better place for everyone. She was well known for her interest in the arts and her philanthropy. As well as spearheading a campaign to raise $15 million to build the Centre for Performing Arts (Arts Commons) where the Martha Cohen Theatre is housed, she was a founder of the Calgary Jewish Family Service Bureau, a recipient of the Order of Canada, a recipient of an honorary doctorate from the University of Calgary; the Calgary Citizen of the Year; and the Prime Minister's Medal from the State of Israel Bonds.  
Martha was the first woman to chair Mount Royal College board of governors and worked hard to secure the present location for Mount Royal University. She also cared deeply about aboriginal issues and served on the board of Old Sun College in Gleichen for 12 years. Her legacy lives on at the middle school opened in New Brighton named the Dr. Martha Cohen School and through the Harry and Martha Cohen Foundation.
Haider Dhanani (1939-1990) entrepreneur, community leader and philanthropist was one of the early pioneer leaders of the Ismaili Muslim community in Canada. He lived a life of service. With a profound dedication to bridging cultural differences, Haider made a significant impact on Canada's civil society. Haider Dhanani's commitment to advancing community development was in harmony with his professional life as an entrepreneur as the founder of Bri-mor Developments.
During his 20 years in Calgary, Haider held a number of leadership positions including President of the Ismaili Council for the Prairies; Member, Aga Khan Foundation Canada National Committee; Chairman, Refugee Settlement Committee, Ismaili Council for Canada; Chairman, Immigration and Settlement Services, Government of Alberta; and Member on the Federal Board for Visible Minorities, Canada, to name a few. Haider worked to build strong communities and was dedicated to the well-being, settlement and upward mobility of newly arrived immigrants to Canada. He championed the integration of community into Canadian society, breaking down barriers and fostering a common understanding and celebration of diversity.
Ruth Gorman (1914-2002) lawyer, volunteered and worked throughout her life on behalf of various Aboriginal, political and women's groups. She fought for the rights of women, public education for disabled children, the legalization of skimmed milk for poor mothers, and oversaw the passing of the Dower Act, which prevented the disposition of the marital home without a wife's consent.
As an unpaid legal adviser for the Indian Association of Alberta she fought for the treaty and voting rights for Indigenous peoples in Canada and was given the title of Queen Morning Star by the Maskwacis Cree. Following her work to have section 112 of the Indian Act repealed, all Aboriginal people in Canada could vote without losing their treaty rights. Prince's Island Park exists today because of her fight with the CPR to preserve it.
Gorman was honoured with many awards and recognition throughout her life including Order and Officer of Canada, Alberta Woman of the Century and an honorary doctorate from the University of Calgary. Ruth Gorman worked passionately throughout her life to right injustices that she saw in our community in order to make it a better place.
John Robert (Bud) McCaig (1929-2005) was an entrepreneur and philanthropist. In 1962, Bud and his brothers formed Trimac. With Bud at the helm, they built one of the most progressive, innovative transportation companies in North America. Bud's impact went beyond his success in business. He believed Calgary could be a world leader in medical research and the delivery of health care services. He had a passion for the treatment and prevention of arthritis and in 1993 he helped establish the McCaig Centre for Joint Injury and Arthritis Research.
In the early 1990s he served as the vice chair of the Foothills Hospital Board and Chairman of the Foundation and he was a driving force behind a $50 million capital campaign to advance medical research and service delivery in Calgary and southern Alberta. Appointed as Chairman of the Calgary Regional Health Authority in 1994, Bud helped lead the restructuring of Calgary's health care system. In 2004 he contributed $10 million to establish a bone and joint research institute in Calgary.
Bud was a generous philanthropist with a unique ability to bring people together to do great things whether in business, the health sector or as one of the owners of the Calgary Flames.
Ron Southern (1930-2016) was born in Calgary and was a proud Canadian. Together with his father, Samuel Southern, he founded Alberta Trailer Hire Company (ATCO).A self-made businessman, he became a respected giant of Canadian commerce – his successes included Structures & Logistics, Utilities, Energy and Technologies.
Together with his wife Margaret and daughters Linda and Nancy, Ron and his family were the vision and driving force behind the creation and operations of Spruce Meadows, a world-class show jumping facility.
Ron received many prestigious distinctions and honorariums which include; Member, Officer, and Companion of the Order of Canada; Member and Commander of the Order of the British Empire; Officer of the Order of Orange Nassau by Her Majesty Queen Beatrix of The Netherlands; and the Queen Elizabeth II Diamond Jubilee Medal.
Over the decades, he served on numerous boards of directors worldwide. Ron received the International Distinguished Entrepreneur Award and CEO of the Year Award. He was inducted into the Canadian Business Hall of Fame, Canadian Manufacturing Hall of Fame, Alberta Sports Hall of Fame and the Canada Sports Hall of Fame.
Named Honorary Chief of the Tsuut'ina Nation and given the name Istłi Ditł'idzi (Chief Sorrel Horse), Ron lived a life full of adventure and achievement, and truly was an Alberta Champion.
– Mario Toneguzzi for Calgary's Business
---

The views, opinions and positions expressed by columnists and contributors are the author's alone. They do not inherently or expressly reflect the views, opinions and/or positions of our publication.