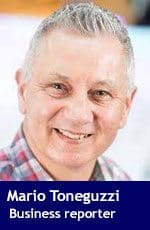 Average weekly earnings of non-farm payroll employees in Alberta continue to be the highest of any province in the country.
On Thursday, Statistics Canada reported that average earnings of $1,147.65 rose by 1.8 per cent in July from a year ago.
"The main contributor to the rise was the retail trade sector. In Alberta, earnings in that sector increased 8.9 per cent over the past 12 months," said the federal agency.
But on a monthly basis earnings fell by 0.1 per cent in the province.
StatsCan also reported that the number of employees in Alberta has risen by 16,000 year over year but it was down 8,000 from June.
Across Canada, average weekly earnings of $996.66 were up three per cent from a year ago but off by 0.4 per cent from June.
"In general, changes in weekly earnings reflect a number of factors, including wage growth; changes in the composition of employment by industry, occupation and level of job experience; and average hours worked per week," said StatsCan.
"The number of payroll jobs increased the most in manufacturing, most notably in the food and chemical manufacturing subsectors. At the same time, payroll employment decreased in the accommodation and food services sector, led by the full-service restaurants and limited-service eating place industry. The number of payroll jobs also fell in administrative and support services, led by services to buildings and dwellings," it said.
"Compared with July 2017, the number of payroll employees rose by 331,700 (+2.0 per cent). Increases were widespread, led by health care and social assistance (+54,600 or +2.8 per cent). Most of the growth in the sector was due to the ambulatory health care services and social assistance subsectors. Over the same period, the number of payroll jobs also rose notably in the manufacturing sector (+44,900 or +3.0 per cent). Payroll employment increased markedly in professional, scientific and technical services (+42,300 or +4.7 per cent) and in educational services (+31,100 or +2.4 per cent)."
On a month-over-month basis, the number of employees in Canada was down 8,200 from June.
Mario Toneguzzi is a veteran Calgary-based journalist who worked for 35 years for the Calgary Herald, including 12 years as a senior business writer.
---

The views, opinions and positions expressed by columnists and contributors are the author's alone. They do not inherently or expressly reflect the views, opinions and/or positions of our publication.