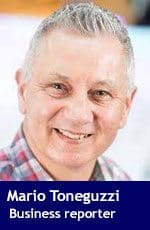 Alberta-based Bullfrog Power, a leading green energy provider, has partnered with the Calgary Board of Education by adding five new 10-kilowatt solar systems on city schools.
The schools are Sen. Patrick Burns School, Chinook Park School, Dr. E.W. Coffin School, Highwood School and Midnapore School.
"Combined, the solar installations will generate 1,340 mWh of clean, renewable power annually. The funds created by the panels will be directed toward educational programming that teaches students about the benefits of conservation and renewable energy," said the company in a news release, adding that the installations are made possible through funding from the Alberta government as well as significant contributions from the Calgary Board of Education board of trustees and Bullfrog Power's community of 10,000 homes and 1,500 businesses across Canada.
It said those homes and businesses pay a premium to green their energy as every month, a portion of goes toward funding community-based green energy projects through Bullfrog's Community Renewable Projects Program.
"Through the installations, students are able to directly participate in the generation of clean, renewable power for their neighbourhoods," said Ron Seftel, CEO of Bullfrog Power, in a statement. "Not only are they helping to put green energy on the Alberta grid, and clean the environment – they are getting to experience first-hand the value and pride that goes along with giving back to one's community."
The company said the projects will help green Alberta's electricity grid by displacing approximately 850 tonnes of CO2 emissions annually. Currently, Alberta's electricity system is largely powered by fossil fuels, with 47 per cent of electricity generation coming from coal and 40 per cent coming from natural gas, it added.
"The students and teachers behind the Good Day Sunshine solar project are grateful for the support provided by the CBE board of trustees and Bullfrog Power in realizing their goal of promoting energy literacy and living sustainably," said Earl Badger, environmental projects co-ordinator for the Calgary Board of Education, in a statement. "As the energy manager for CBE, I am also thrilled to integrate the renewable energy into our growing portfolio of carbon-free generation assets."
---

The views, opinions and positions expressed by columnists and contributors are the author's alone. They do not inherently or expressly reflect the views, opinions and/or positions of our publication.