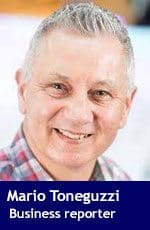 With its traditional reliance on the oilpatch as its economic engine, Alberta has experienced the volatile nature of that relationship over years.
When oil prices are up, that engine is running smoothly in the province. But a collapse in oil prices, as witnessed in late 2014, can make for a very bumpy ride on the economic journey. Recession hit the province in 2015 and 2016.
And whenever Alberta experiences a downturn, talk of economic diversity becomes front and centre.
"We have to diversify the economy" is the rallying cry of many who often point to technology as an industry the province needs to focus on more and promote.
But a recent report by commercial real estate firm CBRE is not a positive one for Calgary and Edmonton when it comes to tech talent.
Each year, the report ranks 50 U.S. and Canadian markets according to their ability to attract and grow tech talent. Neither Calgary or Edmonton are on that list.
For a second year running, Toronto is North America's fastest growing tech market, according to CBRE's annual Scoring Tech Talent Report. Toronto jumped up two spots from sixth to fourth on the report's Tech Talent Scorecard, marking the first time a Canadian market has made the top five.
The report said Toronto's success is in large part due to the city's tech talent employment base growing by the largest number of workers in 2017, as it added 28,900 tech jobs, a 13.6 per cent increase from the previous year. Other Canadian cities had a strong showing with Ottawa and Montreal ranking at 13th and 14th, respectively. Vancouver was ranked 25th.
"High-quality and well-educated tech talent, cost-efficiencies and welcoming immigration policies are competitive advantages for the Canadian tech markets. Toronto continues to outpace other North American markets, having added more tech jobs in 2017 than the San Francisco Bay Area, Seattle and Washington, D.C. combined," commented Paul Morassutti, executive managing director at CBRE Canada.
"Canada's tech markets are booming. In downtown Toronto alone, tech demand sits at 36 per cent of all current office space demand."
The top five markets for tech talent in 2018 were the San Francisco Bay Area, Seattle, Washington, D.C., Toronto and New York.
CBRE said the Tech Talent Scorecard is determined based on 13 metrics, including tech talent supply, growth, concentration, cost, completed tech degrees, industry outlook for tech job growth, and market outlook for both office and apartment rent cost growth.
Respected business writer Mario Toneguzzi is a veteran Calgary-based journalist who worked for 35 years for the Calgary Herald in various capacities, including 12 years as a senior business writer.
---

The views, opinions and positions expressed by columnists and contributors are the author's alone. They do not inherently or expressly reflect the views, opinions and/or positions of our publication.
Calgary's Business is a Troy Media Digital Solutions Associate website