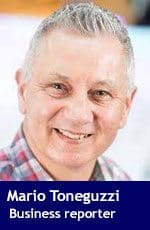 Sandoz Canada says it has finalized a collaboration agreement with Tilray, a Health Canada licensed producer of medical cannabis, allowing Sandoz Canada to become the first Canadian pharmaceutical company to enter the medical cannabis field.
"The alliance will support the rising interest in medical cannabis by providing patients with medical treatment options of stringent manufacturing standards that are adapted to their medical conditions, advocating for broader access to products, and increasing product innovation, research and education," said the company in a statement.
It said it will work with Tilray to develop new and innovative medical cannabis products, including new product dosage forms and delivery systems suited to specific medical uses and support doctors to address evolving patient needs. It said the alliance will invest in research studies to advance the science in a variety of medical conditions, deliver a more robust effort to increase awareness and education of medical cannabis among prescribers and the public, and seek opportunities for public and private medical coverage.
Eight Sandoz and Tilray co-branded non-combustible medical cannabis products are available from Tilray through Health Canada's Access to Cannabis for Medical Purposes Regulations (ACMPR), including cannabis capsules and ingestible oils.
Sandoz will not work in the soon-to-be legalized recreational combustible cannabis area, it said.
"As a leading patient-focused company, Sandoz Canada is committed to discovering new ways to improve and extend the lives of Canadians by increasing access to life enhancing medications, said Michel Robidoux, president and general manager at Sandoz Canada, in a statement.
"As such, we have taken this innovative approach and significant step forward to be the first Canadian pharmaceutical company to support access to medical cannabis for patients and their physicians who have determined that medical cannabis is an effective option for their health conditions."
Respected business writer Mario Toneguzzi is a veteran Calgary-based journalist who worked for 35 years for the Calgary Herald in various capacities, including 12 years as a senior business writer.
---
The views, opinions and positions expressed by columnists and contributors are the author's alone. They do not inherently or expressly reflect the views, opinions and/or positions of our publication.