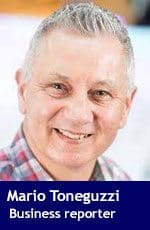 Net income for Canadian Tire Corp. fell by 19.6 in the second quarter compared with a year ago.
In announcing its financial results on Thursday, the company said net income for the quarter, ended June 30, was $174.4 million.
It also reported that revenue rose by 3.2 per cent to $3.48 billion and that retail sales were up by 3.6 per cent to $4.25 billion.
Selling, general and administrative expenses also rose by 4.9 per cent to $831.2 million.
"In the second quarter, we significantly advanced our strategic agenda to strengthen our retail operations and financial services business, and set a foundation for our international growth," said Stephen Wetmore, president and CEO of Canadian Tire Corp., in a statement.
"The launch of Triangle Rewards, our new loyalty program, the introduction of Canada's best credit card offering, Triangle World Elite, and the completion of our international brand acquisition, Helly Hansen, are all critical cornerstone investments for our future. These investments along with the continued development of our digital, owned brands and online capabilities reflect our commitment to the long-term success of CTC and are evident in our results for the quarter.
"While our expectations for growth in the quarter were much higher, it is a testament to the strength of our brands that we grew our retail sales on a year over year basis, despite all of our retail businesses being affected by one of the coldest months of April on record."
Key financial results reported include:
Excluding petroleum, consolidated retail sales were up 1.6 per cent over the same period last year,

Consolidated revenue includes a $79.5 million increase in petroleum revenue resulting from higher per litre gas prices. Excluding petroleum, consolidated revenue increased $27.2 million, or 0.9 per cent, in the quarter.

Canadian Tire retail saw retail sales increase 2.3 per cent and comparable sales were up 2.0 per cent.

FGL's retail sales were down 1.9 per cent and comparable sales decreased 0.3 per cent.

Mark's retail sales grew 1.6 per cent and comparable sales increased 1.3 per cent.
Canadian Tire Corp. Ltd. is a family of businesses that includes a retail segment, a financial services division and CT REIT. The retail business is led by Canadian Tire, which was founded in 1922. The retail segment also includes Mark's, Pro Hockey Life and FGL (Sport Chek, Hockey Experts, Sports Experts, National Sports, Intersport and Atmosphere). There are about 1,700 retail and gasoline outlets.
Respected business writer Mario Toneguzzi is a veteran Calgary-based journalist who worked for 35 years for the Calgary Herald in various capacities, including 12 years as a senior business writer.
---

The views, opinions and positions expressed by columnists and contributors are the author's alone. They do not inherently or expressly reflect the views, opinions and/or positions of our publication.
Calgary's Business is a Troy Media Digital Solutions Associate website