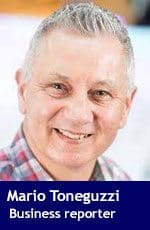 The next stage of cannabis legalization in Canada is expected to create a consumer market for edibles and other alternative cannabis products worth more than $2.5 billion a year and generate higher profits for retailers than cannabis products that are already legal, says Deloitte's latest annual report on industry.
The report, Nurturing new growth: Canada gets ready for Cannabis 2.0, was released on Monday. It says the legalization on Oct. 17, 2019, of edibles containing cannabis and cannabis concentrates will create new product mixes that will reach consumers who may have been reluctant to try traditional cannabis consumption methods that are currently available.
Many of these novice or "cannabis-curious" consumers will be older, often female Canadians. They will prefer more familiar consumption formats, notably edibles such as baked goods, adds the report.
"The edibles market alone is estimated to be worth at least $1.6 billion a year in Canada, with cannabis-infused beverages adding a further $529 million," said Jennifer Lee, a partner and Deloitte Canada's cannabis national leader, and consumer advisory and analytics practice national leader, in a news release.
"According to our research and stakeholder interviews, much of this economic boost will be on top of current cannabis product spending. The introduction of cannabis-infused edibles will clearly threaten the alcohol industry as consumers are using the product for similar usage occasions."
Deloitte says the global cannabis market is worth an estimated US$100 billion combined among the top 13 cannabis markets.
The report says alcohol and tobacco companies are looking for opportunities to enter the legal cannabis industry to avoid losing market share, which could continue to fuel an already strong market for mergers and acquisitions in the cannabis sector.
Pharmaceutical companies are also entering the market, as a growing number of consumers looking to manage various health and wellness issues are expected to turn to alternative cannabis products, including cannabis-infused topicals, upon legalization in October.
"The global cannabis market is enormous, and Canadian firms are well-positioned to play a pivotal role as this market grows and evolves," said Lee. "Cannabis companies with strong professional leadership and business fundamentals, a focused strategy, and a willingness to place bets – while playing the long game to wait out the changing regulatory environments – will be the ones who succeed and prosper."
Highlights from the report include:
the global market for alternative cannabis products is expected to nearly double over the next five years, to US$194 billion;

more than half of the estimated C$2.7-billion Canadian market for edibles and alternative cannabis products will be spent on edibles ($1.6 billion), followed by cannabis-infused beverages ($529 million), topicals ($174 million), concentrates ($140 million), tinctures ($116 million), and capsules ($114 million);

nearly half of likely edible users are planning to consume gummy bears, cookies, brownies or chocolate at least every three months;

Canadian cannabis companies will need to manage consumer expectations, as the preferred edible formats may not all be available when legalization occurs in October;

government and the cannabis industry have learned from the first round of legalization, in October 2018, and are committed to improving the rollout of edibles and alternative cannabis products in October 2019.
– Mario Toneguzzi for Calgary's Business
---

The views, opinions and positions expressed by columnists and contributors are the author's alone. They do not inherently or expressly reflect the views, opinions and/or positions of our publication.