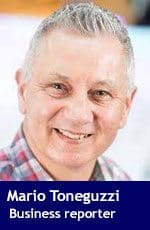 Calgary-based Cenovus Energy Inc. says it delivered strong operating and financial performance in the first quarter of 2019, generating more than $1 billion of adjusted funds flow, $731 million of free funds flow and cash from operating activities of $436 million.
The company said it generated net earnings from continuing operations of $110 million in the first quarter, compared with a net loss of $914 million in the same period in 2018. It also  had operating earnings from continuing operations of $69 million compared with a $752 million operating loss in the first quarter a year earlier.
"These results emphasize the true potential of our company," said Alex Pourbaix, Cenovus president and chief executive officer, in a news release.
"All of the positive momentum we've been building over the past few years through focusing on safe and reliable operations, deleveraging our balance sheet, maintaining capital discipline and firmly establishing our position as an in-situ cost leader is translating into strong cash flow generation and shareholder value. At current commodity price levels, I'm optimistic we will generate material free funds flow over the remainder of the year."
The company said its financial results were driven by strong operating performance, a significant narrowing of light-heavy oil price differentials in early 2019, and Cenovus's low-cost structure and continued commitment to capital discipline.
"Cenovus managed its first-quarter oil sands production to comply with the government of Alberta's mandatory curtailment program, producing approximately 343,000 barrels per day (bbls/d). The company completed construction of the Christina Lake phase G expansion project ahead of schedule and 25 per cent under budget," it said.
"Cenovus's financial performance in the first quarter of 2019 was driven by stronger Western Canadian Select (WCS) prices. Following the implementation of mandatory oil production curtailment in Alberta on Jan. 1, 2019, the price differential between West Texas Intermediate (WTI) and WCS narrowed to an average of US$12.37 per barrel (bbl) in the first quarter from record highs reached in the fourth quarter of 2018. There was a corresponding increase in the price of WCS to an average of US$42.53/bbl, more than double the average price in the fourth quarter of 2018 and up 10 per cent from the first quarter of that year.
"While Cenovus's oil sands operations continue to produce at lower rates to comply with the government-mandated curtailment program, the company has made the decision to maintain normal steam injection levels. While this has contributed to a modest, temporary increase in per-barrel operating costs and steam-to-oil ratios (SORs), it has allowed Cenovus to continue mobilizing and storing production-ready barrels in its reservoirs for sale at a later date when curtailment is eased. As a result of higher WCS prices, Cenovus paid $191 million in royalties to the province of Alberta during the first quarter. In the fourth quarter of 2018, when price differentials reached record levels, Cenovus had a royalty credit of $29 million."
Pourbaix said it should now be crystal clear that the government's temporary curtailment program is doing what it was intended to do and has had an immediate, positive impact not only for the industry, but for all Albertans, in the form of improved royalty revenue.
"To put it in context, when price differentials reached record highs in the fourth quarter of 2018 due to a lack of takeaway capacity, our company was in a royalty credit position with the provincial government. Over the last three months, we paid nearly $200 million, and we only account for about 10 per cent of Alberta's total oil production. This has been a big win for Alberta," he said.
Mario Toneguzzi is a Troy Media business reporter based in Calgary. He writes for Calgary's Business.
---

The views, opinions and positions expressed by columnists and contributors are the author's alone. They do not inherently or expressly reflect the views, opinions and/or positions of our publication.