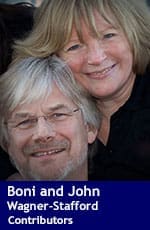 Personal development programs like Tony Robbins, Landmark, or Context International, to name but a few, all ask participants to ponder simple questions like, "Why am I here?", and "What is really important to me?". Questions like these are designed to help individuals define "why" they exist, to bring "purpose" to life. Identifying "purpose" has an important place in the small business world, too.
For a long time, both of us thought of the mission statement as the ultimate strategic direction tool. We've participated in a number of mission-statement-development sessions held by companies we were either working with or for, multi-day off-site affairs with an entire leadership team agonizingly wringing out just the right tone to chart a course forward.
Our perspective on mission statements changed a couple of years back. We were working with an up and coming brand that had also engaged consulting services from Unleash Culture founder David Reeve.
"The reason having a purpose is so powerful is that it is why you exist," explains Reeve, author of Discover Greatness Within: How to Design, Implement & Sustain a Powerful Culture that Accelerates the Growth of Your Brand. "Unfortunately, most brands operate in a transactional way of thinking. They focus on what they do and how they do it, but they never address why they do it."
Reeve teaches that your purpose inspires your employees and your partners to rally around a common cause. A clear, concise purpose can give you an edge over your competitors, not for the fact of having a purpose statement, but because customers will care more about you and connect more deeply with you once you can articulate your purpose with meaning.
So just what is a purpose statement, and how does it differ from a mission statement?
A purpose statement describes both now and forever; a mission statement describes a not-yet-attained future state
A purpose statement is the essence of your being; a mission statement is outside of you and apart
A purpose statement is a memorable emotional hook in four words or less; most mission statements are dull and too long to remember.
That's not a typo. Reeve's ideal purpose statement is indeed just four words. Not 40, or 14, but four. Why four?
"Magic starts to happen when you can get your purpose statement to four words or less," explains Reeve. "Four words are easy to remember, easy to live, you get clarity without confusion, and they generate an emotional response."
Getting a purpose statement that is only four words is not as challenging as you might think, as long as you abandon your old mission-statement-thinking. Illuminating additional differences between mission and purpose is Reeve's list of what not to include in your purpose statement:
Why your product or service is the best
Anything about revenue, cost, or price
Anything about what you do or how you do it
Anything about quality, or your customer service
Anything at all about your brand.
Here are a few of sample purpose statements that illustrate how they work.
| | |
| --- | --- |
| David Reeve's Unleash Culture | Discover Greatness Within |
| Our own | Creating a Better World |
|  IT company | Creating Peace of Mind |
| A salad restaurant | Bringing Freshness to Life |
A clear purpose statement that reveals why you exist is especially powerful in today's social media-driven marketing world, where every business is working to connect, individually, with customers. And most paying customers aren't really inspired by things like share value.
"I have never met an entrepreneur," Reeve confides, "who woke up in the middle of the night, awakened his or her spouse and said, Honey, I want to start a brand to increase shareholder value while maintaining environmental standards, blah blah blah."
Between them, Boni and John Wagner-Stafford have five decades of experience as entrepreneurs and/or providing consulting services to other small businesses across Canada. 
For interview requests, click here.
---
The opinions expressed by our columnists and contributors are theirs alone and do not inherently or expressly reflect the views of our publication.
© Troy Media
Troy Media is an editorial content provider to media outlets and its own hosted community news outlets across Canada.