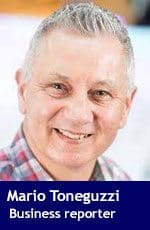 Realized net income for Canadian farmers  fell 3.6 per cent in 2017 to $7.0 billion, following three consecutive annual increases, according to a report released on Tuesday by Statistics Canada.
The federal agency explained that realized net income is the difference between a farmer's cash receipts and operating expenses, minus depreciation, plus income in kind.
"A small gain in farm cash receipts was more than offset by a stronger increase in operating expenses and rising depreciation charges. Realized net income declined in four provinces: Nova Scotia, Quebec, Ontario and Saskatchewan," said Stats Can.
"Farm cash receipts, which include crop and livestock revenues as well as program payments, grew 2.3 per cent to $62.0 billion in 2017, following a 1.0 per cent rise the previous year. This was the seventh consecutive annual increase. Farm cash receipts rose in every province except Nova Scotia (-5.1 per cent) and Saskatchewan (-0.4 per cent). Gains in Alberta and Manitoba accounted for more than 85 per cent of the national increase."
The federal agency said market receipts increased 2.4 per cent to $59.6 billion in 2017, with rising livestock receipts the major contributor. Market receipts are the product of price and marketings. Marketings are quantities sold, using various units of measure.
"Livestock revenues totalled $25.1 billion, up 5.1 per cent in 2017, following a 6.7 per cent drop the previous year. Gains were reported throughout the sector as supply-managed, hog and cattle and calf receipts all increased.
"The 4.8 per cent increase in supply-managed receipts was largely attributable to a 6.3 per cent rise in dairy receipts, driven by higher marketings. Increases in quantities sold also pushed poultry and egg revenues higher," said Statistics Canada.
"After two years of decline, hog receipts grew 10.3 per cent as prices rose 8.4 per cent. Ongoing strength in pork exports propped up prices in spite of growing North American inventories. Revenues for cattle and calf producers were up 3.4 per cent on the strength of increased marketings, boosted, in part, by rising beef exports.
"Crop receipts edged up 0.6 per cent in 2017 to $34.5 billion, despite sharp declines in both lentil (-45.7 per cent) and dry pea (-29.2 per cent) revenues. These decreases followed a brief period of robust gains, which were mainly due to higher exports to India after poor growing conditions resulted in lentil and dry pea shortages there. As India's growing conditions improved, demand for Canadian exports fell sharply, negatively affecting both prices and quantities sold. In late 2017, the Indian government imposed import duties on these crops, further weakening that export market."
The federal agency said rising canola and wheat (excluding durum) receipts were major factors in pushing crop receipts slightly higher. Canola revenues increased 7.3 per cent as strong domestic and export markets drove prices and marketings higher. After falling 10.8 per cent in 2016, wheat (excluding durum) receipts rebounded in 2017, rising 13.2 per cent.
---

The views, opinions and positions expressed by columnists and contributors are the author's alone. They do not inherently or expressly reflect the views, opinions and/or positions of our publication.