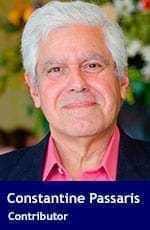 Provincial governments across Canada are doing a lot of soul searching as they craft their 2015 budgets.
There is no denying that these are challenging times for our provinces. They face a clear and present economic danger in the form of declining revenues, stubbornly high unemployment and an elusive economic recovery.
The knee jerk reaction to this situation is to slay the dragon of fiscal deficits by slashing provincial expenditures. However, this approach c and lacks long-term economic vision.
The danger is that slamming the fiscal brakes too hard will probably send their provincial economies flying through the windshield.
Regardless the dire contemporary fiscal circumstances Canada's provinces are facing, now is precisely the time for provincial governments to exercise economic leadership. They should embrace a strategic economic policy that supports the private sector and is directed towards growing the provincial economy.
The reason for a redefined role for the provincial governments is eminently clear. Despite unprecedented low interest rates, the private sector is hesitant to expand its productive capacity or initiate new investment opportunities. In consequence, the public sector must pick up the ball and invest in the economic fundamentals that will grow a bigger economic pie and set a trajectory for employment creation.
In essence, what is required is to stretch out austerity programs over a longer timeframe. My prescription for the 2015 provincial budgets is to adopt a longer timeline for fiscal contraction, a more protracted implementation scenario and a smaller spoon-full of the bitter medicine. Furthermore, I believe that relying singularly on fiscal constraints is wrong.
I am a strong proponent of advocating a public sector agenda that embraces internal operational efficiencies, eliminates duplication, raises productivity, infuses an entrepreneurial mindset, modernizes economic governance and promotes public sector innovation.
During a protracted period of economic malaise, a fragile economic recovery and a sluggish record of economic activity, insisting on harsh fiscal austerity measures is a recipe for economic decimation.
In a mixed economy, economic growth should be a collaborative effort and an effective partnership between the public sector and the private sector. Faced with fiscal constraints, the public sector must increasingly rely on the private sector in order to spearhead investment and job creation. However, in the absence of an optimistic economic outlook from the private sector, the public sector must step up to the plate and kick start the economy. In this regard, the public sector has a vital role to play in promoting economic growth through facilitating foreign investment, promoting innovation and opening up new export markets.
In particular, the public sector must do a better job in realigning our human resources with the emerging opportunities of the new global economy. At a time when our human capital, comprised of the education, skills and competencies of our workforce, is a country's most valuable economic asset and resource, we cannot sit idly by and languish in excessively high rates of unemployment. We need to recognize that unemployment is a debilitating cost on our future potential. It is imperative that we nurture our human capital assets in order to best align our youth with the new job opportunities of the new global economy of the 21st century.
During tough economic times, provincial governments should lead by example. This means they should not ask of their citizens more than what they ask of themselves. More specifically, provincial governments should not be exempt from the financial sacrifices and hardship that they impose on their citizens.
In consequence, provincial budgets should set the stage for managing the machinery of governance in a more spendthrift, efficient and effective manner. In the same breath, they should develop a strategic plan to simultaneously grow the economy and create new employment opportunities. The three guiding lights that should inform our 2015 budgets are balance, perspective and vision. In short, a growth oriented strategy that embraces government spending reforms.
Dr. Constantine Passaris is a Professor of Economics at the University of New Brunswick, an Onassis Foundation Fellow (Greece) and a Research Affiliate of the Prentice Institute for Global Population & Economy at the University of Lethbridge.
Constantine is a Troy Media contributor. Why aren't you?
---

The views, opinions and positions expressed by columnists and contributors are the author's alone. They do not inherently or expressly reflect the views, opinions and/or positions of our publication.