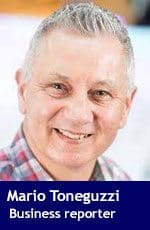 Job vacancies were up 9,000, or 17.7 per cent, in Alberta in the second quarter, according to Statistics Canada.
In a report released on Thursday, the federal agency said the vacancies were led by health care and social assistance (+2,500 or +67.6 per cent) and transportation and warehousing (+2,200 or +103.8 per cent).
"The job vacancy rate rose 0.4 percentage points to 3.0 per cent, the sixth consecutive quarter with a year-over-year increase in the job vacancy rate," it said, adding that the job vacancy rate represents the number of job vacancies expressed as a percentage of labour demand; that is, the sum of all occupied and vacant jobs.
StatsCan also reported that the highest average offered hourly wage for vacancies in the second quarter was in Wood Buffalo-Cold Lake, Alta. ($28.65), followed by northeast British Columbia ($26.75), Nunavut ($26.20) and Toronto ($23.50). According to the wage component of the Job Vacancy and Wage Survey, Wood Buffalo–Cold Lake was also the economic region with the highest hourly wage paid to full-time employees in both 2016 and 2017, it said.
StatsCan said 32 economic regions in the second quarter had a higher proportion of full-time job vacancies than the national average (72.5 per cent). Côte-Nord and Nord-du-Québec, Que., had the highest proportion of full-time job vacancies (86.6 per cent), followed by Banff-Jasper-Rocky Mountain House and Athabasca-Grande Prairie-Peace River, Alta. (84.8 per cent), Chaudière–Appalaches, Que. (83.5 per cent) and northeast British Columbia (82.7 per cent). The Wood Buffalo-Cold Lake region was eighth at 81.1 per cent.
The lowest proportion of full-time job vacancies was in southwest Manitoba (54.7 per cent), followed by Camrose–Drumheller (55.9 per cent) and Kingston–Pembroke, Ont. (56.5 per cent). Red Deer was 10th at 63.6 per cent.
"There were 547,300 job vacancies in Canada in the second quarter, up 87,100 (+18.9 per cent) from the second quarter of 2017. Most of the increase was for full-time job vacancies (+74,800 or +23.2 per cent). At the same time, the job vacancy rate rose 0.5 percentage points to 3.4 per cent, the highest national job vacancy rate since the beginning of the series in 2015. This continues a series of year-over-year increases in both the number of vacancies and the job vacancy rate that began in the fourth quarter of 2016," said StatsCan.
Mario Toneguzzi is a veteran Calgary-based journalist who worked for 35 years for the Calgary Herald, including 12 years as a senior business writer.
---

The views, opinions and positions expressed by columnists and contributors are the author's alone. They do not inherently or expressly reflect the views, opinions and/or positions of our publication.