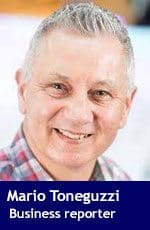 Calgary-based Crowd Source Technologies Inc. is launching an on-demand mobile platform, Crowd Car, in Alberta with plans to roll out the concept to other provinces in the near future.
Victor Vrbancic, Crowd Car's founder and CEO, said on Tuesday that the platform connects those in need of a convenient delivery service with independent drivers.
The application, which will be available on the App and Google Play stores, allows users to request deliveries, track the process and schedule payment all under one platform.
The company's launch in Alberta will concentrate on Calgary and Edmonton, with plans to branch out to other Canadian provinces and major cities in the near future.
Vrbancic said he was inspired by the popular ride-sharing concept and saw the need for an on-demand delivery service.
"With the fast-paced lifestyles we are frequently adapting to, I recognize a need for a cost-efficient delivery solution at the convenience of mobile users. With the guidance and forward-thinking of Crowd Car director and COO Adam Amos, this vision has been made possible," he said.
"I look forward to seeing Crowd Car's influence on the community and job market; along with the accessibility, efficiency, and support it will provide to all its users."
He said Crowd Car's independently contracted couriers can accommodate for a wide variety of deliveries.
The platform features both user and driver interfaces, allowing users to submit pictures including details such as dimension and weight of the items.
The company said the cost of each delivery is competitively calculated based on distance and the vehicle required. Crowd Car also allows both parties to communicate through a messaging system within the app while a request is in transit.
The company said it will facilitate the delivery of everything from furniture to food to flowers and will operate seven days a week and 24 hours a day.
Respected business writer Mario Toneguzzi is a veteran Calgary-based journalist who worked for 35 years for the Calgary Herald in various capacities, including 12 years as a senior business writer.
---

The views, opinions and positions expressed by columnists and contributors are the author's alone. They do not inherently or expressly reflect the views, opinions and/or positions of our publication.
This site is Powered by Troy Media Digital Solutions