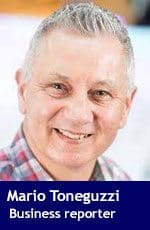 Calgary-based Westleaf Cannabis Inc. has received an $8-million investment from Saskatchewan's Thunderchild First Nation.
In a news release, the company said the investment makes Thunderchild the largest shareholder of Westleaf, and is accompanied by a seat being allocated to Chief Delbert Wapass on the company's board of directors.
"Since its inception, Westleaf has firmly believed in investing and supporting the communities it operates in and developing meaningful, authentic relationships that are reflective of Canadian values," said Scott Hurd, oresident and CEO of Westleaf Cannabis Inc., in a statement.
"One of the defining moments for our company was our decision to partner with Thunderchild First Nation, and we look forward to building a partnership that will allow us to put a spotlight on the Canadian production of cannabis, while instilling a sense of pride and ownership in the communities we serve."
Westleaf is building a 115,000-square-foot cannabis cultivation facility on lands owned by Thunderchild near Battleford, Sask. It will also have a cultivation facility in Calgary.
"We believe that the legalization of recreational cannabis creates significant economic opportunities for our country – and our community is no exception. We are proud to be Westleaf's largest shareholder, as we strongly believe that this relationship will bring significant benefits to our band," said Thunderchild Chief Delbert Wapass in a statement. "Westleaf's strong knowledge of the industry and its vision to develop high-quality cannabis products in the prairies in collaboration with our members will make our relationship a natural and rewarding fit."
Once both of Westleaf's planned facilities are fully operational, it will have about 175,000 of square feet devoted to production and manufacturing . It intends to develop and manufacture a diverse range of cannabis products.
In April, Westleaf announced it has closed a non-brokered private placement of approximately 25 million units at $0.50 per unit for gross proceeds of approximately $12.5 million. Each unit consisted of one common share and one liquidity warrant. The company said it intended to use the net proceeds from the offering to fund Phase 1 of its cannabis cultivation facilities and prospective retail distribution locations in Alberta and Saskatchewan, as well as for general corporate purposes. Concurrently with closing the offering, Westleaf entered into a limited partnership agreement with Delta 9 Cannabis Inc. and Delta West Inc.  for the joint development of a large-scale cannabis production facility located in Calgary.
Respected business writer Mario Toneguzzi is a veteran Calgary-based journalist who worked for 35 years for the Calgary Herald in various capacities, including 12 years as a senior business writer.
---

The views, opinions and positions expressed by columnists and contributors are the author's alone. They do not inherently or expressly reflect the views, opinions and/or positions of our publication.
Calgary's Business is a Troy Media Digital Solutions Associate website