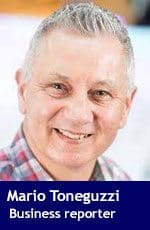 Wholesale sales in Alberta reached a record high in May.
Statistics Canada reported on Monday that the province reported its fifth increase in six months, rising by 6.7 per cent to $7.3 billion.
It also said that Alberta contributed the most to a national increase, which saw the sector reach a record of $63.7 billion in Canada, up 1.2 per cent on a monthly basis.
In Alberta, "sales were up in six subsectors, led by the miscellaneous subsector (+26.7 per cent). The agricultural supplies industry within the miscellaneous subsector contributed the most to the gains," said the federal agency.
On an annual basis, sales in the province rose by 8.7 per cent.
Nationally, StatsCan said wholesale sales were up in four of seven subsectors, representing approximately 50 per cent of total wholesale sales.
"The miscellaneous, building material and supplies, and farm product subsectors contributed the most to the gains in May, while the motor vehicle and parts subsector posted the largest decline," it said.
The miscellaneous subsector saw sales rise 7.8 per cent to $8.3 billion. Sales were up in four of five industries, led by the agricultural supplies industry (+25.6 per cent) following a 5.4 per cent decline in April. In volume terms, the agricultural supplies industry increased 27.4 per cent, added StatsCan.
"Sales in the building material and supplies subsector rose 5.0 per cent to $9.7 billion as all industries posted gains in May. Much of May's increase was attributable to higher sales in the lumber, millwork, hardware and other building supplies industry, up 7.3 per cent to $4.9 billion. This was the third consecutive increase for the industry and the highest sales level since July 2017. In volume terms, the industry increased 6.8 per cent, indicating that the gain in the current dollar series was partly price driven," it said.
Statistics Canada said the motor vehicle and supplies subsector recorded the largest decline in dollar terms in May, down 2.5 per cent to $11.1 billion. This was the second consecutive monthly decline and the fifth drop in six months, bringing the subsector to its lowest level since December 2016. The sole contributor to the decrease was the motor vehicle industry, down 3.7 per cent to $8.9 billion.
"Imports and exports of passenger cars and light trucks as well as manufacturing sales of motor vehicles declined in May," explained StatsCan.
Respected business writer Mario Toneguzzi is a veteran Calgary-based journalist who worked for 35 years for the Calgary Herald in various capacities, including 12 years as a senior business writer.
---

The views, opinions and positions expressed by columnists and contributors are the author's alone. They do not inherently or expressly reflect the views, opinions and/or positions of our publication.
Calgary's Business is a Troy Media Digital Solutions Associate website