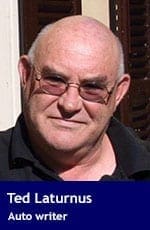 Thinking of buying a used car that's four years old? Well, every year, Consumer Reports publishes its "Best And Worst" automobile issue. This is arguably the most comprehensive and thorough automobile guide and takes a hard, cold look at new and used cars and SUVs.
Consumer Reports accepts no advertising, so they have no axes to grind or flags to fly (except their own, perhaps). All the cars tested are purchased by the company and passed from employee to employee while they're evaluated.
According to the company, each vehicle undergoes 50 tests, including track time, braking tests, accident avoidance, fuel economy, data analysis and extensive driving under a variety of conditions, including commuting. There are 28 full-time staffers driving the cars and according to CR, they spent $2.7 million on new cars purchases in 2015.
As far as CR is concerned, the best car overall in 2015 was the Tesla Model S. This despite the fact that it had only average reliability. If there is a flaw in CR's approach, it's that they traditionally put too much emphasis on zero emission vehicles and tend to ignore the real world. Voting Tesla as the best overall is just sophistry, in my opinion, and irrelevant to most consumers.
Back here on Earth, three of CR's top 10 picks for 2015 came from Subaru, while Toyota scored well for reliability and affordability. Surprisingly, perhaps, General Motors had two models in the top 10. Anyway, here's the hit list:
Best midsize sedan, Subaru Legacy
Best green car, Toyota Prius
Best small SUV, Subaru Forester
Best large car, Chevrolet Impala
Best compact car, Subaru Impreza
Best luxury car, Audi A6
Best sports sedan, Buick Regal
Best mini-van, Honda Odyssey
Best midsize SUV, Toyota Highlander
If there's a best category, then there must also be a worst. On that score, the manufacturer with the worst report card for predicted reliability and road test scores was Fiat, followed closely by Jeep.
Best brand for overall reliability and drivability was Lexus.
In terms of cars that owners would buy again, there are some surprises. For example, the subcompact with the highest owner satisfaction rating was the Fiat 500, with the Mazda3, Mazda6, Dodge Charger and BMW 328d all getting top marks in their respective categories.
Least satisfying were the Nissan Versa, Nissan Sentra, VW Passat V6, Buick LaCrosse and Infiniti Q50, among others.
According to CR, some of the most expensive 2015 cars to own and operate are the Hyundai Veloster equipped with a manual transmission, the Kia Soul Plus, Chevy Suburban and Land Rover Range Rover. CR says the cost to run a Land Rover Range Rover for five years, for example, is US$100,215, factoring in things like fuel expenses, loan interest, insurance costs, sales tax, and maintenance and repairs. This was based on annual distance travelled of 12,000 miles (19,312 km).
Cars that are the least expensive to own and operate included the Toyota Prius C, Honda Civic Hybrid, Toyota Camry Hybrid and Buick Verano. CR claims it would cost US$24,000 to operate a 2015 Prius C for five years.
For flat-out reliability, the Toyota Yaris topped the subcompact list; the Scion xB was top compact car; the VW Passat 1.8 top midsize sedan; Kia Cadenza top large car; and Lexus IS 350 top luxury compact.
Least reliable were the Ford Fiesta, Fiat 500L, Nissan Altima, Chevrolet Impala and Mercedes CLA 250.
The results were based on CR's annual owners survey.
Consumer Reports noted that "cars built in the last decade are more reliable than ever" and "many newer cars will provide trouble-free service for 200,000 miles (320,000 km) and 10 years at least, or more with care."
Here are some used models they recommend:
Under US$10,000: 2008 Mazda3, 2005 to 2008 Pontiac Vibe, 2005 Acura TL, 2007 to 2008 Kia Optima (four cylinder), 2005 Honda CR-V, 2005 Honda Pilot.
US$10,000 to US$15,000: 2010 Subaru Impreza, 2010 to 2012 Kia Soul, 2006 to 2007 Infiniti G35, 2005 to 2006 Acura RL, and 2005 to 2007 Acura MDX.
Some used cars that should be avoided: BMW 330i/335i, Buick Terraza, VW Tiguan, GMC Acadia, Dodge Grand Caravan, Kia Sedona, Mini Countryman, and Nissan Pathfinder.
Ted Laturnus writes for Troy Media's Driver Seat Associate website. An automotive journalist since 1976, he has been named Canadian Automotive Journalist of the Year twice and is past-president of the Automotive Journalists Association of Canada (AJAC).
---

The views, opinions and positions expressed by columnists and contributors are the author's alone. They do not inherently or expressly reflect the views, opinions and/or positions of our publication.